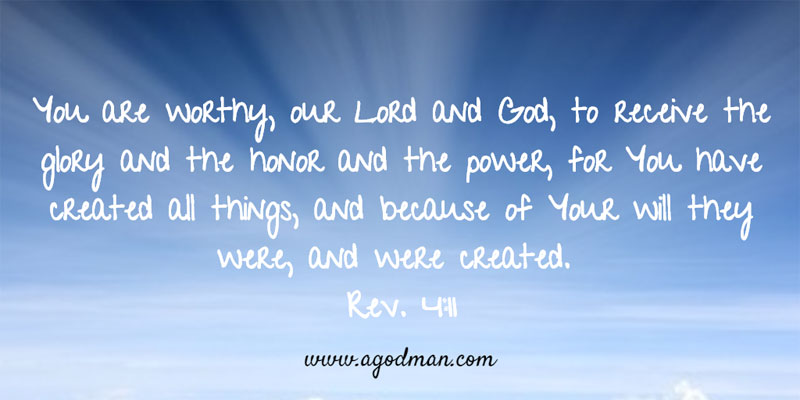 "I have a dream" – God has a dream, which is revealed in the Bible, and God's dream is bigger and greater than any of our dreams. God's dream according to the desire of His heart, is to make man the same as He is in every possible way so that God and man, man and God, would become a universal couple for eternity, God living in man and man living in God for the corporate expression of God in man.
In order to fulfill His dream, God made a plan – which the New Testament calls, "God's economy" (Eph. 1:4-5; 3:9; 1 Tim. 1:4), which is simply that God became a man to make man God in life and nature but not in the Godhead.
God's eternal economy is to make man the same as He is in life and nature but not in the Godhead and to make Himself one with man and man one with Him, thus to be enlarged and expanded in His expression, that all His divine attributes may be expressed in human virtues.
Amen! This is God's economy as the plan to fulfill God's dream, this is what He is doing today, and this is our gospel. At the end of this age the Lord has brought us to the highest peak of the divine revelation for us to see not only that God loves man and wants man to be saved from sin, but that God Himself became a man through incarnation so that man would become God through regeneration, transformation, and glorification, so that God would be expressed through a corporate man, a collective God-man, who is the reproduction of Christ in humanity.
Wow, what a thought! What a gospel! This is indeed the highest gospel, the highest point of the gospel.
This is the crystallization and highest point of all that God has spoken and has done, and such a high peak consummates in the New Jerusalem as the masterpiece of God – a miraculous structure of treasure in which God is fully mingled with man, man is blended with God, and God shines through man, rules through man, and is fully expressed through man in the whole universe for eternity. Hallelujah!
God Created us in His Image for us to Become God in Life and Nature but not in the Godhead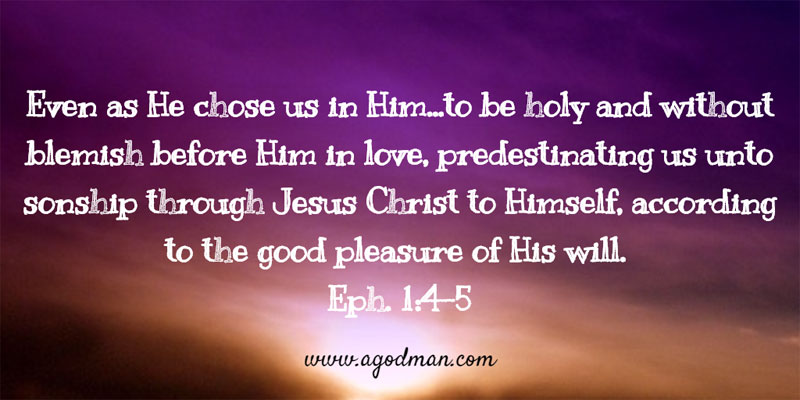 In the beginning of the Bible we see that God created man in a particular way: He didn't create man according to man's kind but according to God's kind, according to God's image and likeness (Gen. 1:26) so that man would contain and be filled with God Himself.
Humanism today may tell us that man is good and can gradually be improved, while the low gospel in Christianity says that man is sinful and corrupt and in need of God's salvation.
We as believers in Christ shouldn't focus on improving man or convicting man of his sins: we need to realize that man was created by God for the accomplishment of His economy, with the intention that man would become God in life and nature but not in the Godhead for His expression (see Rev. 4:11; Eph. 1:4-5; John 1:12-13).
Just as a glove is made in the image of our hand and fulfills its purpose when our hand fills the glove, so we are made in God's image to be filled with God as our content; when we are filled with God as life, we are satisfied.
We have human virtues – but these are empty, ready to be filled with God's attributes as their reality. When God's love comes in and fills our virtue of love, our love is no longer selfish, hollow, and biased but solid and full!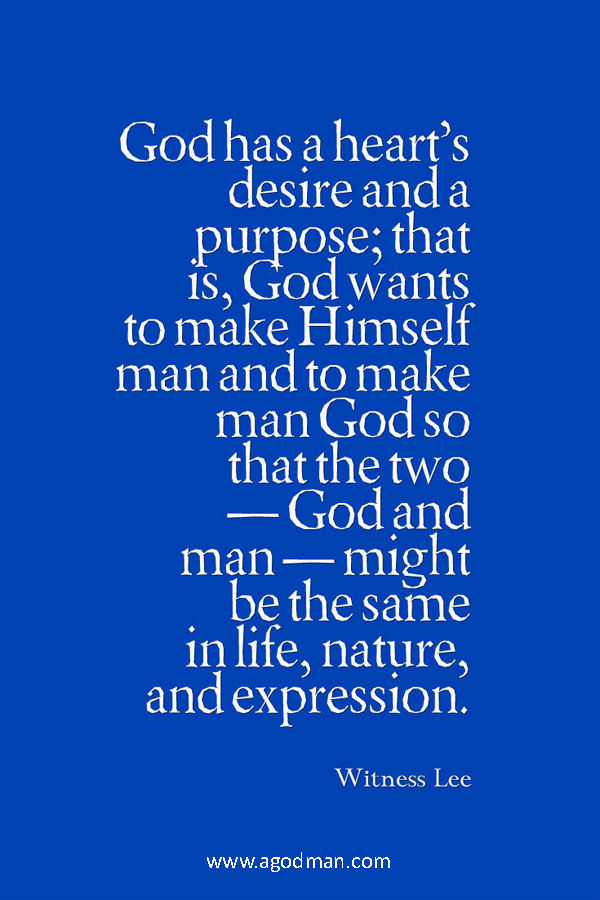 Due to Satan's rebellion, God's creation was corrupted and ruined, and man became "mankind" – from being one who expresses God's image, man became fallen and now expresses himself instead of expressing God.
God has a heart's desire and a purpose; that is, God wants to make Himself man and to make man God so that the two – God and man – might be the same in life, nature, and expression (John 1:1, 12-14; Rom. 8:3; 1:3-4; 8:16, 29).
God created the universe, making His heart's desire – man – the center; this heart's desire is nothing less than one who is the same kind as God is, one who would reproduce and fill the whole earth (Gen. 1:26, 28). After God created man, He was happy and satisfied; now He could rest, because He was pleased to see man in His image with His likeness, His "hobby" being materialized.
But God's hobby, His dream, was far from being fulfilled, for Adam had only God's image outwardly yet not God life inwardly. We are NOT a species that "evolved from monkeys", neither are our ancestors some monkeys that look like us; God created us in His image and according to His likeness according to God's kind (not according to man's kind).
God didn't create mankind – He created man according to God's kind. From God's point of view, the word mankind is a negative term, for there should not be a mankind – only the man created by God as God's kind.
But after the fall, man separated himself from God and became mankind; through the preaching of the gospel and believing into Christ, we are being brought back to God's original intention in creating man, that, is, we are becoming God in life and nature but not in the Godhead.
Hallelujah, we are created by God in His image and according to His likeness so that we may receive God's life and become God in life and nature but not in the Godhead. Amen! Lord, thank You for bringing us back to Your original intention in creating us: You brought us back to God becoming man to make man God in life and nature! Oh Lord, may we see Your heart's desire, Your purpose, and Your economy, and may we preach the high gospel of God becoming man to make man God in life and nature, so that Your dream may be fulfilled!
God Became Man to Reproduce Himself and Produce the God-man Kind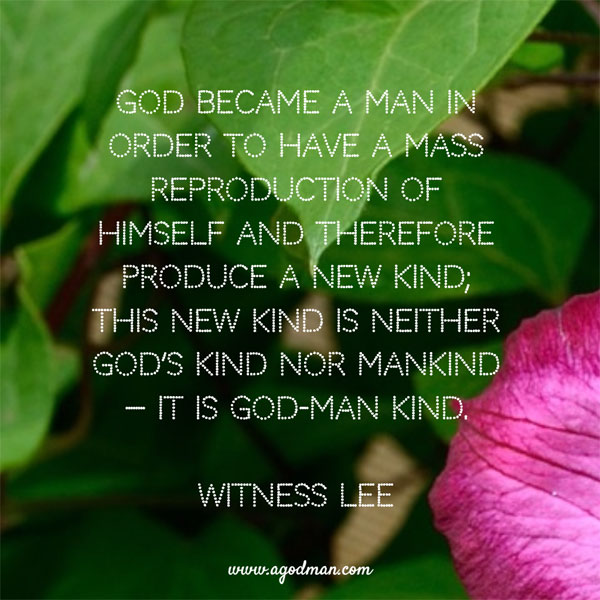 After the fall of man, out of the confused world of mankind God chose Abraham, whose descendants became the nation of Israel, a holy people sanctified unto God, ready for God to come to them. Two thousand years after Abraham, the choosing God became a man: God was incarnated to be a man, putting on human nature.
This God-man went through the process of death and resurrection to reproduce Himself in the many sons of God, the many grains produced by Christ as the unique grain falling into the earth to die (John 12:24).
Now we as believers in Christ are Christ's many "twins", His many brothers (Rom. 8:29) to be blended into one loaf, the Body of Christ (1 Cor. 10:17). We are a new kind – no longer mankind, but God-man kind!
Just as there are new words to describe new developments in human culture, so we need new terms and expressions to describe matters in our spiritual culture. God-man kind is such an expression. In Christ God and man have become one entity, the God-man. In God's creation there was no mankind; there was only man as God's kind. It was through man's fall that mankind came into existence. Eventually God became a man to have a mass reproduction of Himself and thereby to produce a new kind. This new kind is neither God's kind nor mankind—it is God-man kind. Today as believers in Christ, we are God-man kind; we are God-men. (Witness Lee, Life-study of 1 & 2 Chronicles, pp. 9, 23-24)
Every one who believes into the Lord Jesus enters into a new kind, a new species – the God-man kind, the divine species, to be part of the mass reproduction of God in man.
The way God obtains His goal is not by having man obey Him and do some things for Him, but rather by He Himself becoming a man and then in His resurrection being reproduced, duplicated, and expanded in humanity so that His many believers would be the many God-men, part of the new kind – the God-man kind.
Jesus Christ Himself is the prototype for this new God-man kind, and we are the many sons of God, brothers of Christ, and God-men to be God's corporate expression. Wow! Human words can't adequately express this, but such a gospel is high, deep, wonderful, and glorious!
Thank You Lord for becoming man to reproduce Yourself in resurrection and produce us the believers in Christ to be the God-man kind. Hallelujah, we are now no longer part of the mankind but part of the God-man kind, and our humanity is being uplifted into divinity, divinity is being wrought into our humanity, so that God may gain a corporate God-man, the one new man that expresses Him and represents Him! Praise the Lord! No matter how we look outwardly, inwardly we are God-men kind, the reproduction of Christ as the first God-man!
References and Hymns on this Topic
Inspiration: the Word of God, my enjoyment in the ministry, the message for this week, and Life-study of 1 & 2 Chronicles, msg. 2 (by Witness Lee), as quoted in the Holy Word for Morning Revival on, The Gospel (2016 International Chinese-speaking Conference), week 5 / msg. 5, The Highest Point of God's Gospel.
All Bible verses are taken from, Holy Bible Recovery Version.
Hymns on this topic:
# God has a dream, this is what He's wanting. / God has a dream, and we are part of it. / God has a dream…that we may be one with Him. / God has a dream…realized in you and me! / God, you and me…a dwelling place to be. / God in man, and man in God: one entity. / Now, it's my dream…my vision and life to be! / God has a dream…realized in you and me! (Song on God's dream)
# Did you know that I'm a God-man? / A three-part man mingled with the Triune God, / And I have a spirit / Where the enemy has no way, no hope, no ground… / I am a God-man! (Song on being a God-man)
# We're Thy total reproduction, / Thy dear Body and Thy Bride, / Thine expression and Thy fulness, / For Thee ever to abide. / We are Thy continuation, / Thy life-increase and Thy spread, / Thy full growth and Thy rich surplus, / One with Thee, our glorious Head. (Hymns #203)