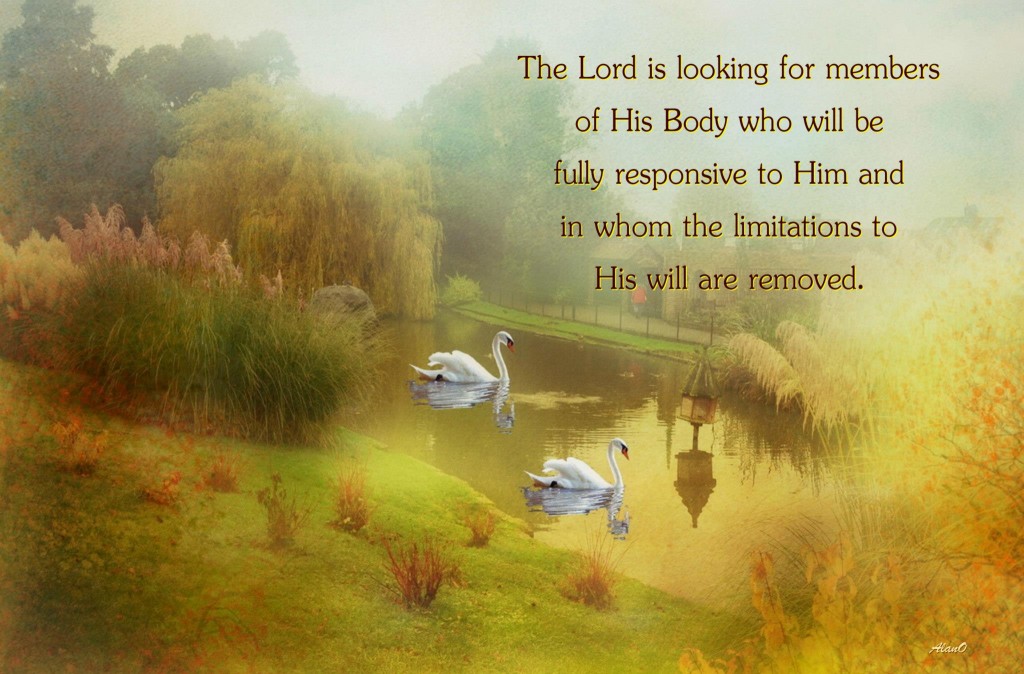 I am impressed and humbled to see how much God is limited to man's cooperation. God is omnipotent and He can do everything He wants, but His omnipotence is limited because His church on earth does not release His power and His will.
God needs to have certain conditions suitable for His working, and then He can work – but who among men cooperates with Him, offers Him the prayers that He needs, and aligns his will to God's will?
Me and you, the believers in Christ, can hinder God through our sin, our unbelief, our natural energy, our offenses, etc. The power of God is ready to operate, God is ready to save, and He wants to advance in His economy – but we as God's people can limit Him and hinder Him, putting Him in a position where He cannot do what He desires to do.
We need to have a revelation of the fact that the power of God is limited to our capacity and subject to our will, our submission, our obedience, and our faith. The Lord really needs to bring us to a place where we are fully responsive to Him so that He may have a free way in us to do whatever He wants to do.
Lord, save us from hindering You and limiting You in what You intend to do. We open to You, Lord. We love You, and we want to give You more ground in our being that You may gain what You are after. Make us those who are responsive to You, who cooperate with You, and who release Your will on earth!
Not Hindering the Lord Anymore
We need the Lord to shine on us both individually and corporately as the church that we may see, in His light, what He can do AND what we can hinder Him from doing.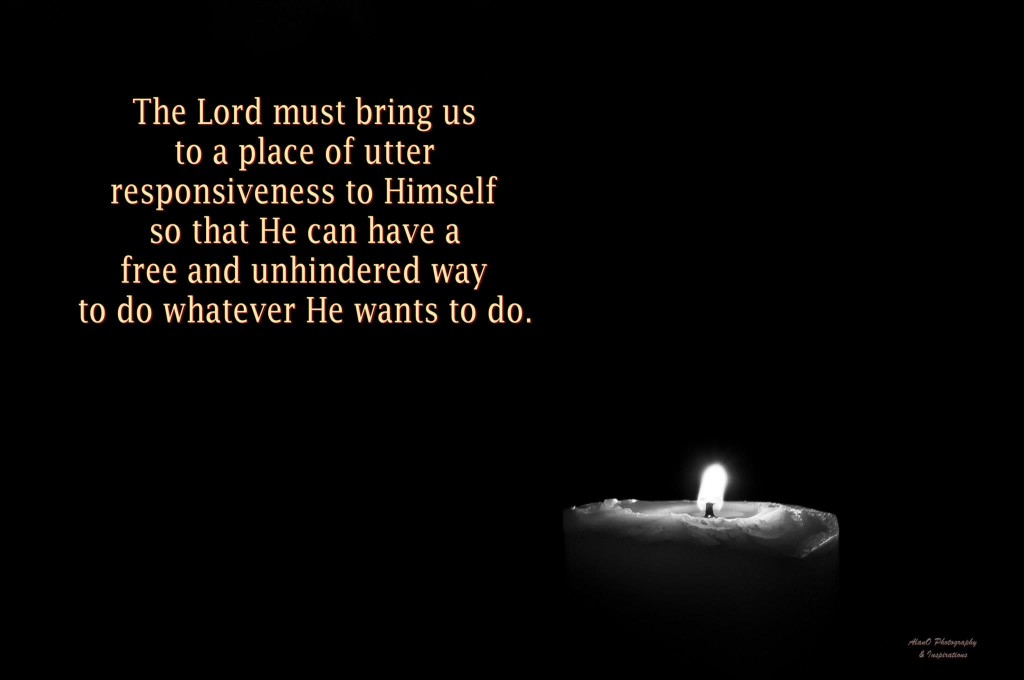 No, God's hand is not too short so that He cannot redeem – there's no man to cooperate with Him (see Isa. 50:2). Nothing is too wonderful, too much, or too amazing for the Lord to do (Jer. 32:17); rather, what is impossible with man it is possible with God (Matt. 19:26; Luke 1:37).
God is ready to save; He is ready to redeem and bring many men back to Himself – but who on earth prays for His will to be released? God desires that all men be saved and come to the full knowledge of the truth (1 Tim. 2:4).
But God's capacity and ground to work among men is limited by our capacity and to the ground we give Him in our being. If we allow God to enlarge our capacity, if we allow Him to subdue our will and gain our obedience, if we grow in faith and in the divine life, God's power will no longer be limited but will increasingly be expressed as He wishes.
Today God's power is limited to our capacity, and what He can do is subject to our will, submission, obedience, and faith (see Matt. 17:19-20; Mark 11:23-24). We are the measure that the divine almightiness can operate.
May we hinder Him no more! May we give Him a free way in our being, that He may gain what He is after. May we be enlarged channels through which He can freely flow and operate. May we no longer hinder Him, limit Him, shut Him up, or stop Him from what He desires to do.
Being Responsive to God and Cooperating with Him
God desires to have a people who are responsive to Him so that He can have a free and unhindered way to do what is in His heart to do. This has to do a lot with our growth in life, to giving the Lord the ground in us to grow and expand (Matt. 13:22-23; 23:37-38). He is limited by our measure of faith (Mark 6:5).
May we not be those who have an evil heart of unbelief, who will cause us to fall away from the living God (Heb. 3:11-12), but rather be those who mix the word of God with our faith (Hebrews 4:2) and enjoy Him, love Him, open to Him, give Him ground to grow in us, and pray for both our growth in life and the growth in life unto maturity of the saints.
The Lord must bring us to a place of utter responsiveness to Himself, a place where we are pliable in His hands and He can do what He desires to do with our full willing cooperation.
When He gains such ones, there is nothing that He cannot do on earth. He will truly have an unhindered way to move and operate.
Lord, have a way in us! Lord, grow in us. Gain more ground in our inner being. Lord, we no longer want to hinder You. Gain the responsiveness in us that You need for You to move and accomplish what's on Your heart.
The Body of Christ Either Expresses or Limits Christ
Our human body is the full expression of what we are, of our personality. We gesticulate as we speak, we have a certain attitude and demeanor, and we dress in a particular way so as to be expressed.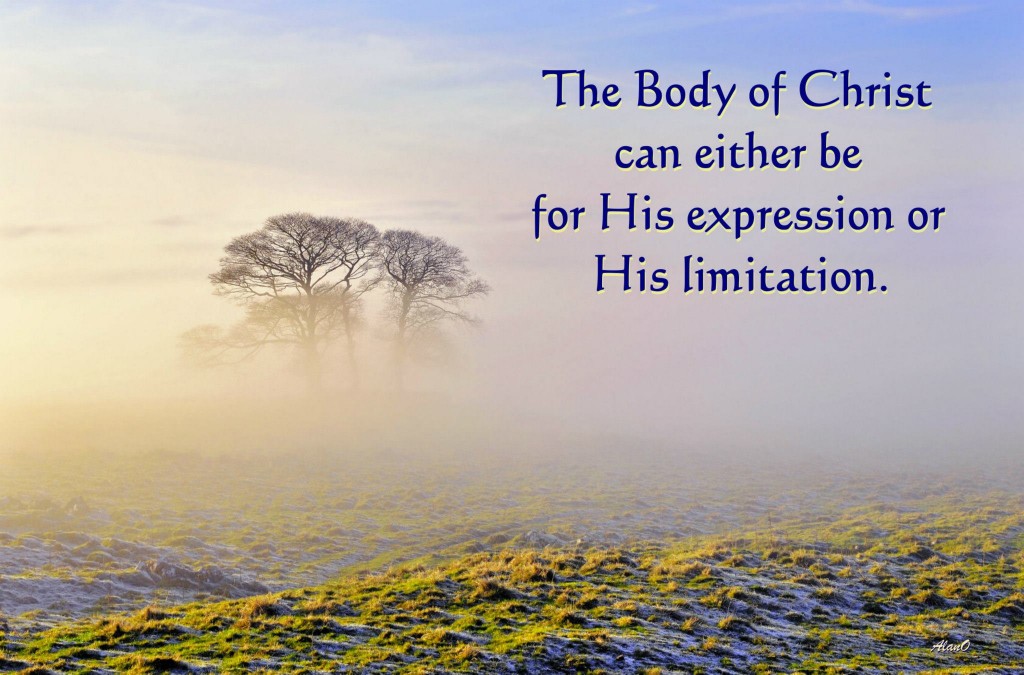 In the same way, the Lord Jesus is expressed through each member of the Body, and the church as the Body is expressing Him as a whole. Christ as the Head is either expressed or limited by His Body on the earth in what He wants to do.
We as the many members of the Body of Christ either express Him or we limit Him. The measure to which we grow in life is the measure to which He can be expressed.
God could be expressed fully through the Lord Jesus because He had no limitation in Him – He was fully one with God, He was mature in life, He gave no ground to Satan, and He fully allowed God to do whatever He wanted to do in and through Him.
Today God is seeking for many duplications of Christ in the members of His Body, those who are fully responsive to God and in whom His will's limitations will be forever done away with.
We need to see how great our responsibility is, and we need to allow the Lord to open our eyes to see God's limitations and also see how we should cooperate with Him!
Lord Jesus, open our eyes to see what You desire to do and how do we limit You. Lord, gain the response in us that You need for You to accomplish Your will. May we individually as members and corporately as Your Body limit You no more. Cause us to see our great responsibility and humble ourselves before You, allowing You to operate in us both the willing and the working for Your good pleasure. Have an unhindered way to do what You want to do!
References and Further Reading