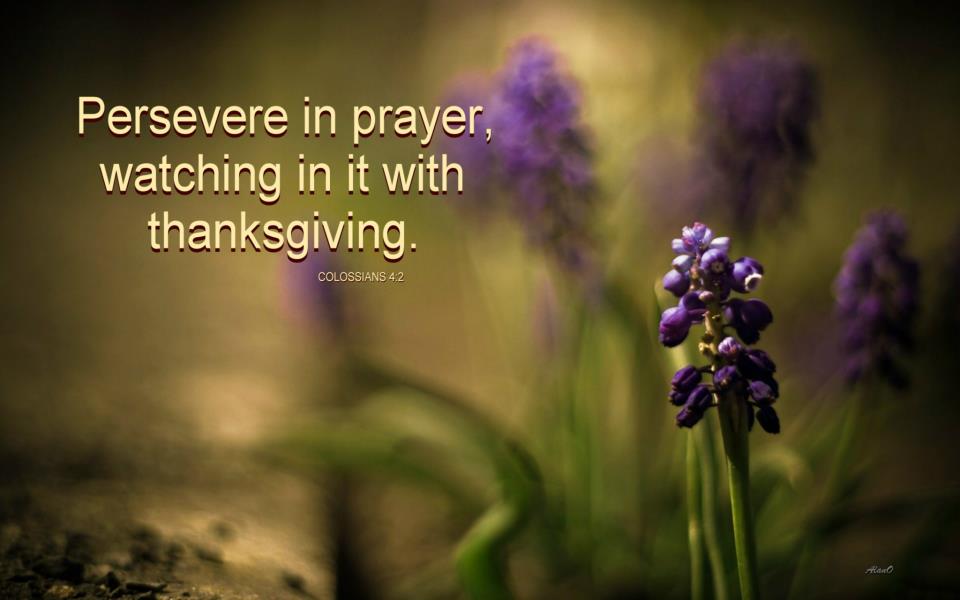 Prayer is a very important matter in our Christian life and in God's economy. Without prayer and without persevering in prayer the truths in the Bible are merely doctrines we know in our mind, not our spiritual constitution and reality.
Watchman Nee encourages us to not only hear the truth but pray the Word and the truth into our being and then pray it to God, so that it may be our reality and our living. Also, Paul the Apostle encourages us in Col. 4:2, Persevere in prayer, watching in it with thanksgiving.
We all agree that it is important to pray, but do we actually set a period of time aside every day for prayer? Do we persevere in prayer? Do we continue persistently, steadfastly, and even earnestly in prayer?
As soon as we have our time in prayer with the Lord the whole world is trying to distract us and bother us. Satan doesn't want us to pray – he would rather want us to read the Bible and do other spiritual and good things, but not pray.
In the battle raging in the universe today between God and Satan, man's will and man's prayer will decide the outcome. God will win, but will we be the people on earth who pray and persevere in prayer so that Satan (the accuser, the enemy, the adversary) will be defeated?
Lord, make us those who pray today and watch unto this in all perseverance  Lord, may we treasure our time of prayer with You more than anything else. We want to learn to reject any distractions and frustrations, and focus on praying to align our will with Yours! Lord Jesus, bring us on in this matter of prayer with perseverance!
Persevere in Prayer
To persevere means to insist, to persist, and to continue persistently, steadfastly, and earnestly. Don't say you don't know how to persevere – if we look at what we do, we will see that many times we persevere but in the wrong things.
Some people persevere in making sure they win all the verbal battles / exchange of words. Others persevere in going to work daily and never being late. Others persevere in playing a game until they finish it, playing sports, doing their homework  jogging, etc.
We know how to persevere, but when it comes to persevering in prayer, "the spirit is willing, but the flesh is weak" (Matt. 26:41; Mark 14:38). We need to have a praying spirit and watch against any physical, psychological, or spiritual sleep.
Don't give up – insist in prayer, even in the face of discouragement and obstacles. Satan is against our prayer, and he will instigate our family, our friends, our classmates, and everything around us and even within us to rise up and distract us from praying.
Prayer Involves a Battle
Why do we need to persevere in prayer? According to the Bible and also according to our experience, prayer involves a battle, a fight, a struggle.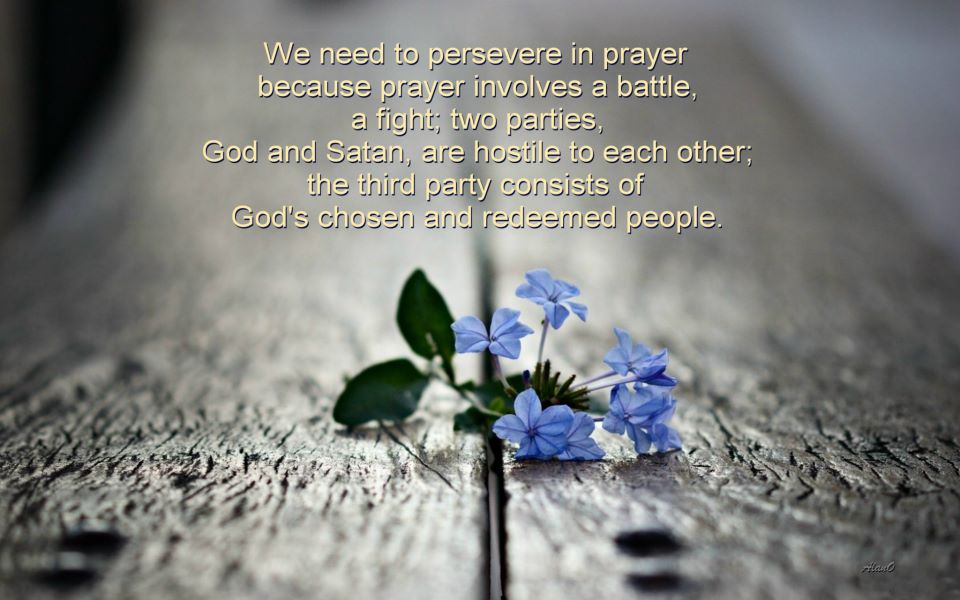 In the universe all conflicts have their source in the battle between two wills: God's will and Satan's will, which are hostile to each other. We as God's chosen and redeemed people need to stand on God's side and willingly choose God's will.
Satan is our adversary – he always accuses us before God, day and night accusing the brothers and the sisters, trying to cause damage (Rev. 12:10; John 1:6-12).
Also, Satan is the enemy without, stirring up all kinds of people, situations, and environments to bother us, wear us out, distract us, and slow us down from pursuing the Lord and loving Him.
Outside God's kingdom, Satan is the enemy; within us and within God's kingdom, Satan is the adversary, working tirelessly to distract us and make things difficult for us when we want to pray.
God on the other hand, as the almighty Creator, would not lower down to deal with one of His creatures by Himself; He chooses man and gains man to be on His side, so that man would pray and cooperate with God and defeat God's adversary and enemy, Satan.
For us to fight on God's side against Satan we need to persevere in prayer! The whole world lies in the evil one (1 John 5:19), lying passively in the sphere of the evil one's influence.
God's people can decide the outcome of the battle of God and Satan through their prayer! We need to persevere in prayer, watching in it with thanksgiving, so that God would defeat and completely destroy His enemy Satan!
We Choose to Stand on God's Side!
Whose side are you on – God's or Satan's?
Satan lures us, distracts us, deceives us, and usurps us illegally and unruly to be on his side. But God desires that we would see this battle, we would see His economy, and we would stand on His side.
God opens His heart to us, showing us His need: He not only created man in His image and with His likeness, but He needs man to willingly choose Him and pray persistently so that God would defeat Satan, His enemy.
The whole world today is going downstream, but we need to refuse to be a dead leaf carried by the stream and rather be the living salmon swimming upstream by going against the trend of the age and pray with perseverance.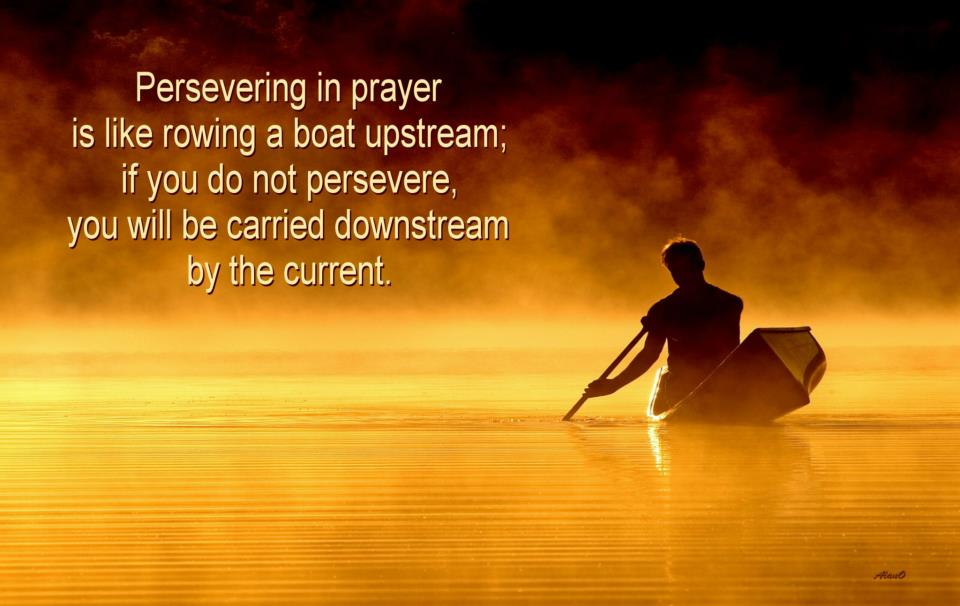 We need to row upstream, swim upstream, against the Satan-influenced-world. This requires a lot of energy, a lot of perseverance.
When we stand on God's side by praying, we will discover that the whole universe is against us – particularly against our prayer. When we set a time aside to pray, the phone will ring, we receive a text, or we remember something.
When we try to pray, Satan operates both in the environment and in our being to hinder us from praying!
Long distance calls, the dogs barking, an accident outside our window, people shouting, the radio playing, remembering something about someone, being reminded of something we forgot to do, and so many other things rise up – just as we want to pray and stand on God's side.
There's a strong resistance to prayer, both outside of us and within us. This is why we need to see what's going on, see Satan's schemes, see God's need, and be serious with the Lord in praying with perseverance!
Lord, we choose You! We want to stand on Your side. Strengthen us into our inner man, Lord, to reject Satan's distractions and not pay attention to his continual bothering. Lord, make us Your house of prayer, those who have the spirit of grace and supplications. May we see what's really going on. May we see the warfare and the battle, and may we no longer be passive but be actively praying with perseverance!
References and Further Reading