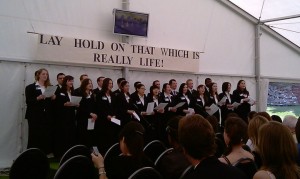 The Lord has been sovereignly leading me through my Christian life and He always put precious patterns on my way. Seeing those saints who are faithfully following the Lord, a desire to attend the FTTL (the Full Time Training in London) has been put into my heart.  Then, the Lord opened the way for me and my husband to start the training in August 2011 and we have just finished our first term. It went by so fast but it has been truly a wonderful time of enjoying the Lord with those who call on the name of the Lord out of a pure heart (2 Tim. 2:22).
My best moments in the training were those times spent with the sisters, studying together for our exams, reading the ministry together and walking around the property praying and singing to the Lord! It's an unspeakable joy to be able to pursue the Lord with others! It's been a privilege having sisters from upper terms that you can speak to, pray with and get so much encouragement from!
I have also been enjoying our classes! They were my top enjoyment, I think! In each block of classes, each class has been like a great light shining and revealing the unsearchable riches of God! The singing and pray-reading before the classes is like a big injection of spiritual power! This helps you to get into your mingled spirit where the Lord can reveal more of Himself!
In my individual dealing with my 'self' I have been learning to put myself aside, especially when we go out on the campus to preach the gospel or to nourish our contacts. Many times I have been busy with my own things, I felt tired, and I didn't even have any willingness to go out; however, the Lord has been reminding me to seek first His Kingdom (Matt. 6:33) and put Him first in any kinds of situation. I must exercise my will to choose what the Lord wants and rather forget about myself, my own feelings, and my own needs. It's a privilege to be out on the campus and speak to people and take care of those that have already been captured by the Lord! It's wonderful to be with the saints and the students. Plus I loved going to Uxbridge where sister Gloria bakes the most delicious cakes for every Friday night meeting!
Personally, very often I have been reminded by the Lord that every day we need to exercise our will to choose Him, exercise our will to turn to the Spirit! This is a big lesson! Many times we even want to remain in ourselves but the Lord wants us to turn and remain in our mingled spirit where He can save us in His life. The verse that I was really enjoying these past few months is Rom. 5:10, which says,
For if we, being enemies, were reconciled to God through the death of His Son, much more we will be saved in His life.
The Lord has given me His life therefore much more I want to give Him the two years of my life to be trained and to be useful in His hands!
[sharing from her first semester in the Full Time Training in London (FTTL, UK – check out their website for more info) by sister Nat E. – her top enjoyment this semester. You can't really summarize your enjoyment and experience from 4months under the continual divine dispensing, but here's some of it 🙂 and more is coming soon. What a privilege to give two years to the Lord to be trained to enjoy Him and serve Him!]