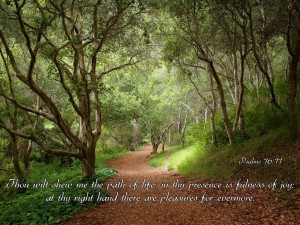 In the Psalms we see the path, the struggles, and the expression of the human sentiments of some of God's loving seekers. Godly men like David, Asaph, the sons or Korah, Moses, etc – they sought after God, pursued the knowledge of God, and wanted to experience and know God. But many times they said things or did things that were not according to God's economy – so God came in time and time again in their speaking in the Psalms to introduce Christ and the church, the center of His purpose.
Until now we have been in Psalm 2, 8, and 16 in the Morning Revival on the Crystallization-Study of the Psalms(1), but even up until Psalm 16 we can see the "ups and downs" of David in his seeking after God. This morning I was impressed with the history in these psalms and how the genuine human sentiments and feelings have been turned by God, little by little, here and there, into the expressions of prophecies concerning Christ, the appreciation of the person and work of Christ, the unveiling of God's purpose, and even something of the church.
The Psalms start with Psalm 1 which speaks of "a righteous man" who obeys the law and does everything according to the law. Where is such a man? Can anyone treasure the law, appraise the law, and live by the law? In Psalm 2 we see that God comes in to turn the psalmist's view from the law to Christ! These men who love to keep the law are in rebellion against God and against His Holy One – but God has installed Christ as the King in His holy mountain! We don't need to try to obey the law now – we just need to kiss the Son!
After Psalm 2 was written, David committed adultery with Uriah's wife and murdered Uriah(2 Sam. 11). This man who loves the law and holds it high in his appreciation has committed a terrible sin – by which he broke the last five commandments(Exo. 20:13-17) – murder, fornication, robbing, lying, coveting. Psalm 3 is a psalm of David when he was running from his son Absalom – because of his sin with Uriah's wife, David's son rebelled against him….
We may think, just like David, that we are "strong in faith", we can DO IT by ourselves, "all that God said we will do". But the fact that we don't fall into gross sins is just a proof that God keeps His covering and protecting hand over us. If He removes His hand from us just a little bit, for one second, we fail miserably and we see how helpless and hopeless we are in ourselves. We think we're OK, we think we're doing better, but it's actually God's hand that is upon us, protecting us and covering us. David thought he could keep the law and thus be a righteous man and please God, but God arranged an environment that exposed David that he could not keep the law.
Furthermore, Psalms 3-7 are written by David when he was pursued by Absalom his son who rebelled against him. These psalms are not recommended to be the "models for our prayers", since in them we see desire for revenge, punishment of the enemy, lots of justification, no repentance at all, no self-condemnation but rather blaming others. Even though David was the one who sinned and now he was suffering the consequence of his sin, he still blamed others…
But then God came in and spoke in Psalm 8 concerning the excellency of Christ! Just when you think, oh, man, this guy David just doesn't think clear – he doesn't see it! – God comes in and speaks concerning Christ! What a Christ! He's THE MAN in God's plan, who makes God's name excellent in all the earth!
Even after such a good psalm – Psalm 8 – we have Psalms 9-14 where we see again David's concept concerning God's judgement on his enemies and his concept concerning man's condition before God. These psalms culminate with Psalm 15 where David describes "the perfect man", the one who obeys the law fully and is so righteous that he can dwell with God for God's heart's desire….
O Lord Jesus! Praise the Lord for Psalm 16, where God comes in again to show us that Christ is THE MAN who can dwell with God for His desire and who satisfies God! Christ, the God-man, in His human living, His death, His resurrection, and His ascension – is the centrality and universality of God's economy, the only One who can dwell with God for His good pleasure!
The story in Psalms 1-16 so far really shows us that there's hope for us! We may want to fulfill what the Bible says, we may want to be good Christians and good believers, but God comes in again and again to show us Christ. Christ can live the Christian life, Christ can live the family life and the church life, and only Christ can satisfy God.
We are being turned time and time again from trying to do something from God to coming to Him to enjoy Him, eat Him, drink Him, kiss Him, be infused with Him, and be organically replaced with Him! Praise the Lord, He is going on in us and He is taking us on! [sharing inspired from the life-study of the Psalms; become a fan on Facebook of the Crystallization-Study of the Psalms for more updates(or get the morning revival book online). Picture source: The Path of Life]
Go on in us, Lord! Make us those who don't trust in themselves or in their power to work things out and live the life of a good Christian. Lord, continue in us – turn us from our doing things to please You to enjoying You and allowing You to live in us! Keep us in the organic union with You, Lord, and don't remove Your protecting and covering hand from us. We want to be Your loving seekers and the ones who give You the full ground in their being!