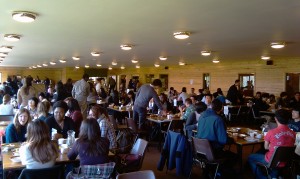 I have been recently asked this question by a dear Christian student on the campus,
What does it mean to be
a Christian Student on the campus?
How do you Love the Lord and at the same time Take Care of Your Studies?
I have been thinking about this question a lot, and even if you are not a student you still have to ask yourself the same question: How do you enjoy the Lord and the church life and at the same time you do your best at work, at school, at home with the family, or with your friends? On the one hand we need to have a personal relationship with the Lord, enjoying Him every morning, and we need to be properly connected to the saints – our peers, the ones older or younger than us, those who pursue the Lord out of a pure heart (2 Tim. 2:22). On the other hand, as students / employees / children / parents in the places where the Lord placed us, we have responsibilities and duties. How to be a God-man in all these situations?
Since we all ask ourselves this question, I took this opportunity to ask several Christian students what would their answer be – in their experience. You can call it "crowd-sourcing", but I would like to call it "saints-sourcing", or God-men-living-on-the-Campus-sourcing! What we really are as Christians on Campus is God-men, those who have the divine life in us and those who are learning to live by another life – whether at home, at school, with our friends, etc. This article is one of the several articles entitled, Being a Christian Student on the Campus, and is composed of what the students themselves wrote as a testimony to the Lord and to others. In these portions you may find the answer to the above question, or the answer to other questions you may have as a student who seeks the Lord.
I am a Christian Student on campus!
To me being a Christian student on campus is the hardest part of my Christian life because it's what defines me in people's eyes. Years later at alumni reunions or when catching up with friends people will always base their opinions of me on how I was as a student on campus. I wake up wanting to be in spirit and I'm prepared to wear a "I LOVE THE LORD" T-shirt for all to see it, but by the time I step on campus I'm subdued. So the way I promote Christ is through the small things. I try to remain in spirit all day, I don't get involved in the usual explicit banter, and I don't go to the pub or clubs (to be honest as a final years nobody does that anymore). People in my class know I'm a Christian so it's much easier to stay out of trouble now than it was in my first year but with all that goes on on campus it's hard to remember to be a pattern. (D.G., London)
Enjoying the Lord and flowing Him out!
Tonight we had the campus meeting and we read through Ephesians 5:1-21. As I look back over my college years, I see how much the Lord has worked in me. When I first began meeting with the Christians on campus I was very social, and the Lord's economy and His Person were very objective and far away to me. Tonight we sang songs and we enjoyed that we need a vision of what the Lord is doing and that this vision is what keeps us going on. We sang "Look away!" and read a few related verses from the Bible. We are running in a race, and the only way to finish is to just look away from our self, or soul, or situation, our surroundings, and turn to the Lord and the supply in the Body and in our human spirit.
Throughout the years there have been many difficult situations both in university and in my personal life, but the Lord has been shepherding me to turn to Him, to just take Him as my All, my Person, the living One in my spirit. Through Christ in us we have access to the Father, and in Christ we lack nothing! He doesn't "dispense virtues" to us – He dispenses His very Person into us and this wonderful One solves all the problems! My top enjoyment from my college years is learning to turn to the Lord and leaning on Him in everything, from small things to big things – practical things and things I'm going through inwardly.
Over the past week, I've experienced that my turning to Him – maybe by reading a verse between classes, or getting myself to the campus meeting, or by calling on His name in any place and at any time – has resulted in an outpouring of His life to others around me. This is something we often hear shared by some saints in the meeting, but this time it was my reality this week and even just a few minutes ago! When I am in the flow in a consistent way, the Lord flows out in a consistent way! He has a need on the earth, and He needs man to cooperate with Him to accomplish and meet this need! Lord, just keep us turning and opening to You! Make us ones who would cooperate with You to meet Your need and to meet the need of those around us! (C.W., Baton Rouge, USA)
[are YOU a Christian Student on the campus? How do YOU balance out these two matters – being a believer and a lover of Christ AND at the same time doing your best in your studies? When assignments come, deadlines need to be met, labs and seminaries are coming up, essays need to be written, there's so little time… – do you still pay the price to spend time with the Lord and with the saints? Send us your testimony at enjoyingthelord@gmail.com]