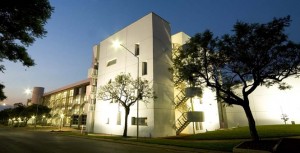 Loving the Lord and taking care of our studies are two completely different things. It's like asking how can I take care of my studies but love and honor my parents at the same time. It's possible! These are two different things that go hand in hand. For me to study is Christ!
It's all about finding the balance between our studies and loving the Lord or rather working for the Lord. We can still love the Lord. Just because we can't pray and read the Bible 24/7 and serve full time doesn't mean we don't love Him. In Matt 24:40-41 we see that two men were in the field and that two women were grinding at the mill. The one was taken and the other one left. They were brothers (sisters) in Christ. While they loved the Lord they also had to work. It is the same with us – we need to take care of our studies and at the same time love the Lord. 
The Lord doesn't want people to "do good works for Him", even though sometimes it is necessary… Rather, He wants people to love Him and express Him. What is the source of our doing good for Him? Is it the Lord doing it in us, or is it just us doing it out of ourselves?
I don't always have the time to read my Holy Word for Morning Revival, but that doesn't mean I don't have morning revival. My time with the Lord starts in the morning and it goes on until I go to bed at night. I enjoy praying on my own but also together with my fellow sisters. Being in the Body of Christ really helps. I make sure that I see saints during the week for one-on-one appointments. I go to home meetings, Bible studies, and the Lord's Day table meetings. But most of all, the thing that helps me with through the day and with my studies, is that I enjoy calling on the name of the Lord. Calling on His name is like breathing. I don't think about it – it just happens, and I get supplied.
If you would have asked me this question 2 years ago I wouldn't have been able to answer this. Every day I just grow more and more in the Lord and He is spreading in me. I still have much more to learn. Eventually, one day when I work, I can still serve the Lord there and still enjoy Him as much and more. [sharing from a sister Christian student on the campus in South Africa, as a testimony-response to the question, How do we balance the Christian life with the student life on the campus? How do we love the Lord and pursue Him while at the same time we take good care of our studies? You can follow this particular topic via, Being a Christian Student on the Campus. Picture source: University of Pretoria Law Faculty Building 1]