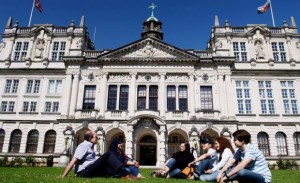 As part of the series of "Christian students sharing their experience of loving the Lord and also taking good care of their studies", below is the testimony of two dear brothers – one studying in Cambridge and the other in Wales – and their experience with the Lord. Read more about the testimonies from the students via, Being a Christian student on the campus.
Take care of the Lord FIRST!
If you give the Lord one hour, He will give you two hours back. Writing an essay is not a matter of 'quantity' of time, it's a matter of 'quality'. I've found that once I've enjoyed the Lord, my mind is calm and I'm able to sit down and actually get something done! If I start an essay without touching the Lord, it's really like untangling a big ball of spaghetti!
As students, we need to use our mind, but our mind needs renewing! How? By enjoying the Lord with the saints. I'm able to have daily meetings with the brothers, whether they are 10mins on Skype, 30mins on campus or 3 hours in the home. I am still able to attend all my lectures and do all my readings. There is always, always, always time to enjoy the Lord with the saints. It doesn't take long! Our life will always be full of things to do, but during our day we need the little times to turn to Him and make sure He's doing them with us.
My assignments must be finished! God's house must be built. The Lord will take care of both if we take care of Him first! [sharing by a Christian Student on the campus in Wales, UK – a brother – as a response to the question, How can we both love the Lord and the church life AND do our best in our studies in the university? ]
Having a proper Schedule!
Praise the Lord – we can be those who love the Lord and take care of our studies at the same time. I have a solid reason for saying this:
We can have a Proper Schedule!
You can incorporate your time with the Lord and with the saints into your daily schedule. For example:
When we practice this kind of living by using only 1 hour we will be those who love the Lord and we will be in a proper church life! And the same with our studies! Having a proper timetable / schedule is a very good way to balance our church life and our studies! [sharing from a Christian Student on the campus in Cambridge, UK – a brother – as a response to the question, How do you Love the Lord and at the same time Take Care of Your Studies? Picture credit: Cardiff University, Wales, via walesonline.co.uk]