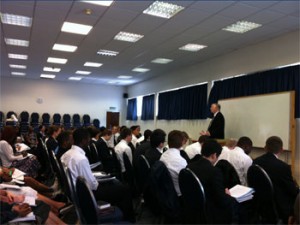 Praise the Lord for another year of the University Training in London. This year the brothers felt that it was altogether necessary to join the pre-training with the University Training, therefore, the University Training schedule for the first time was incorporated with the FTTL classes. This really gave the students a sweet foretaste of the nature of the training. I attended the first training in 2010 before going to University and I must say the Lord is really pouring out His blessing upon us during these times.
My enjoyment of the University Training can be summed up in one word: PRACTICE! In a message entitled "How to study the Truth", we see 4 progressive stages according to our experience: The Triune God, God's word, God's revelation and vision. The Triune God is the source of the divine revelation. God's word is His speaking, and His speaking became the written word of God, the Holy Scriptures, the Holy Bible (2. Tim 3:16, read footnote 2). God's word conveys His divine revelation. Revelation is on God's side (Gk. unveiling), whereas vision is on our side. There is God's revelation. When this revelation is unveiled to us we see a vision. Furthermore, when we apply this vision by putting it into practice, it becomes God's move. Today, God's move is His ultimate move. In order to be part of God's ultimate move a vision is required on our side. Whenever life touches you, you must pray, whenever truth enlightens you, you must study. We all need to get into the divine truths to receive a vision from the Lord. Our pursuit of the truth is not merely for our constitution, but most importantly it is for God's ultimate move as we see it to be. On this note, I would like to insert a particular hymn that bears much burden with regard to God's ultimate move. I do hope you would be impressed with the content of this hymn and would have a renewed realization to see where we are in this crucial era of church history. Stanza 1 of the Nazarite Song says:
In this godless age
Lord, You need some Samuels
Burdened with a vision clear of Your economy

Where's Your are today?
And the ones who'd care for You,
E'en to put themselves aside to gain Your heart's desire?
The concluding chorus of stanza 4 says:
Make us those who meet Your need, the Nazarites.
Make us those through whom You'd close this age;
Who are one with You to bring the kingdom in,
Young People absolute for Your move.
Again, I hope that all the young people in the churches of the Lord's present recovery would be burdened to see the significance of this precious song and that it wouldn't merely be a "song" that we sing in our meetings, but that this song would be a daily prayer that we utter to our love and Saviour Lord Jesus. I've known this song for a while and have sang it countless times, but it wasn't until the Poland Camp 2011 recently that I began to really touch the depths of this song. I must confess, I was moved to tears. The first stanza is very meaningful and presents to us God's need in plain words. God has a need saints, and this need by all means can be met by God Himself, but the infinite God, the great I AM (as revealed in the book of Exodus), has limited Himself to man and chooses to work this need out through and with man, a corporate, willing MAN: the Nazarites. O Lord Jesus!
I treasure this expression rendered by our dear Brother Tom Goetz so much in the Poland Camp 2011: 21st Century Nazarites.
This is my prayer: Lord, since we're at the end of the age, if 2 years in the full-time training is equivalent to 20 years in the recovery, then Lord, I consecrate 2 years of my life to go to the full-time training after I graduate for the fulfillment of Your eternal purpose. Amen. [sharing by brother Chris A.(UK) from his topmost enjoyment in the recent University Training in Bower House]