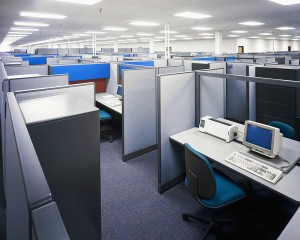 Recently I had the opportunity to experience Christ in a new way while participating at a three month internship. I have been a student in university for four years now, and this was my first full-time office job. Going into the internship, I was not sure what to expect. As each day in my cubicle began to blend into another, I began to realize first-hand the vanity of life in this world. Everyone in this world is laboring for what is not bread, and for what does not satisfy.
I struggled daily because I could not reconcile being a servant of the Lord with spending my time and energy for the benefit of the world. I felt that I was different from all my colleagues and that I didn't quite fit in. Often I found that there was no desire in me to accomplish the tasks that were demanded of me. I asked the Lord why He had placed me where I was. I also asked Him how He could expect all of us to go on if He has called us with such a high calling, and yet expected us to continue to make a living in the world.
During my internship I happened to be reading "The Character of the Lord's Worker" by Watchman Nee. I began to see the Lord's hand in training me while I was at work. Through my internship, the Lord was providing countless opportunities for me to gain Him. He showed me that it was His wisdom and divine design to place me there in order to expose many things in my natural being that needed to be dealt with.
At work, I had to learn to be:
A good listener. In order to understand what was being demanded of me, I had to listen intently to instructions even when I myself did not want to listen or had no desire to do what they were asking me to do. This forced me to turn to the Lord and call on Him moment by moment. There were also coworkers who opened up to me often during lunch, and often it was very difficult to listen to all of their problems. The Lord had to be my supply!
A lover of men. Most of my coworkers were much older than me, and did not seem to remember what it was like to be my age. They often were not the happiest people and were not all that talkative. There were some people I simply could not stand. Some had life-styles that were contrary to the Bible. I had to take the Lord as my person and love in order to love all of my coworkers.
Praise the Lord for the normal Christian life! The Lord desires that we would enjoy His daily dispensing. Sometimes we cannot feel that the Lord is doing anything – but the fact is that He is always dispensing Himself into us as long as we are open. Through the daily, moment by moment dispensing – He is making us the same as He is. Saints, do not despise a normal day in God's divine dispensing! [bro. Ben's sharing about his recent internship and experiencing the Lord even while working …]