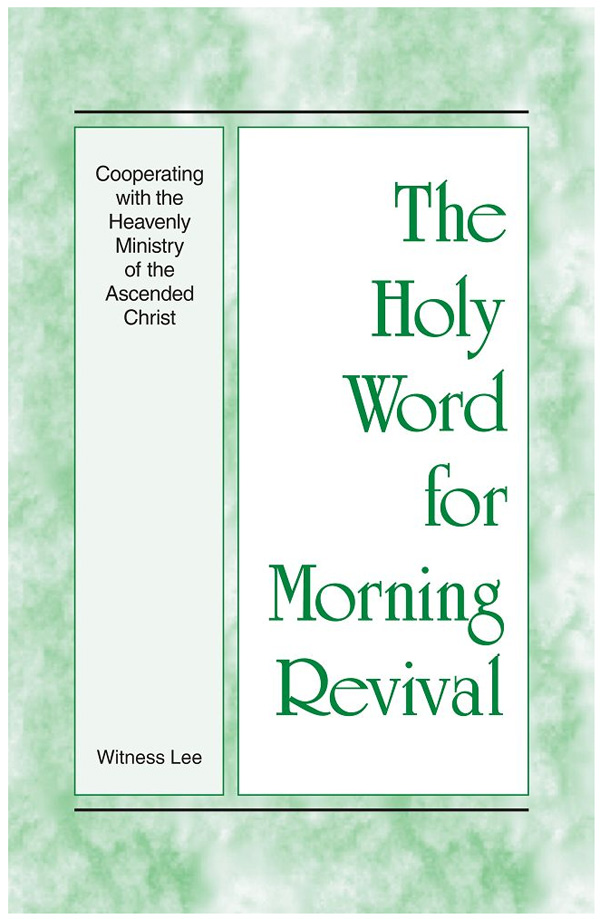 Based on the 2017 Spring ITERO (31 March – 2 April 2017 in Anaheim, California, USA), the series of messages on, Cooperating with the Heavenly Ministry of the Ascended Christ, bring us into a deeper realization of what the heavenly ministry of Christ is, and how we can cooperate with Him.
Our Christ is NOT merely a past Christ or a future Christ; our present Christ is in His heavenly ministry doing many things, being very busy, and we as His people – the members of His Body on earth – need to give Him our utmost cooperation.
May we no longer limit the ascended Christ in His heavenly ministry but cooperate with Him by setting our mind on the things which are above!
Enjoy below a compilation of enjoyment in this Holy Word for Morning Revival (together with the ministry books, the Recovery Version, the spoken messages, and the personal study in the Lord's presence). You can buy this book via living stream ministry, amazon, iTunes, or google play online.
Holy Word for Morning Revival – Cooperating with the Heavenly Ministry of the Ascended Christ
Week 1 – Seeking the Things which are Above
Week 2 – The Apostolic Ministry in Cooperation with Christ's Heavenly Ministry to Shepherd the Church of God as His Flock for the Building up of the Body of Christ
Week 3 – The Pattern of the Apostle Paul in Cooperating with Christ's Heavenly Ministry to Shepherd People for the Building up of the Body of Christ
Week 4 – Propagating the Resurrected Christ under the Heavenly Ministry of the Ascended Christ
Week 5 – The Revelation, Experience, and Enjoyment of the Ascended Christ as the Merciful, Faithful, and Great High Priest
Week 6 – Responding to Christ's Intercession in His Heavenly Ministry
Week 7 – Practicing the Church Life under the Ministry of Christ as the Minister of the True, the Heavenly, Tabernacle
Week 8 – Cooperating with Christ in His Heavenly Ministry by Running with Endurance the race Set before us, Looking Away unto Jesus, the Author and Perfecter of our Faith