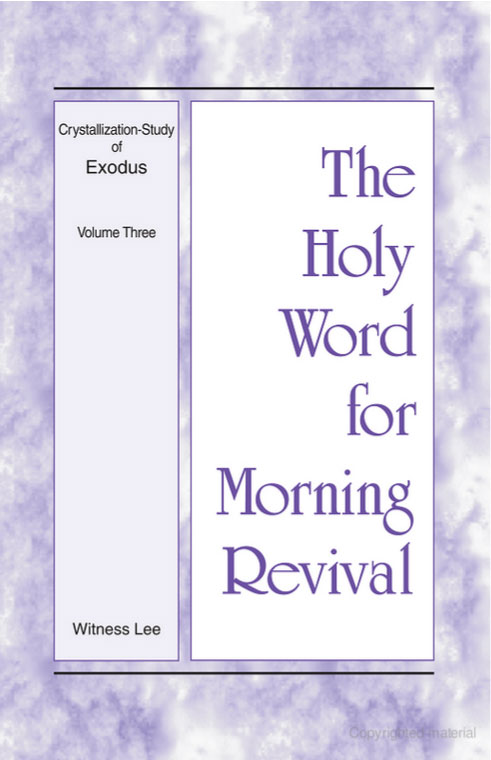 The second training on the Crystallization-Study of Exodus is continuing the first part and looks closer to the law of God and its function, the covenants God made with man, the Slave of God, keeping the feasts, the worship of God, and many other matters in Exodus 19-24.
Praise the Lord for His rich up-to-date speaking and for the privilege to dive into the ministry, be constituted with God's word, and overflow with what the Lord has touched us. May we be the loving seekers of God who enjoy God in His word, have His appearance, fellowship with Him, and see what is in His heart.
You can purchase the Holy Word for Morning Revival on Exodus (crystallization study, part 2) via Living Stream Ministry online (here and here), google playstore here, iTunes here, and on amazon (here and here). Below is a compilation of the enjoyment and overflow in the HWMR book and in the messages given by the brothers, with the help of the life-studies and the Recovery Version Bible.
Read more: Crystallization-study of Exodus part 1, part 2, part 3, and part 4.
Crystallization-Study of Exodus (2)
Week 1 – The Law — the Testimony of God Revealing Him to His People and the Living Word of God to Infuse His Substance into His Loving Seekers
Week 2 – The Law — the Engagement Covenant between God and His People
Week 3 – The Word of God Being a Realm of Light in the Experience of God's Loving Seekers
Week 4 – The Blessing Received by God's Loving Seekers through the Function of the Word of God
Week 5 – Christ as the Slave of God and the Believers as Slaves of God and Christ Jesus in the Church Life
Week 6 – The Covenanting God and His Covenants (1) Major Covenants That God Made with Man
Week 7 – The Covenanting God and His Covenants (2) The Contents of the New Covenant
Week 8 – The Blood of the Covenant
Week 9 – Keeping Feasts unto God Three Times a Year Typifying the Full Enjoyment of the Triune God in Christ
Week 10 – The Worship of God
Week 11 – The Angel of Jehovah for His People to Take Possession of the Promised Land
Week 12 – The Vision of God in a Transparent and Clear Heaven and the Heavenly Vision concerning the Desire of God's Heart to Have a Dwelling Place with Man on Earth
Read more: Crystallization-study of Exodus part 1, part 2, part 3, and part 4.