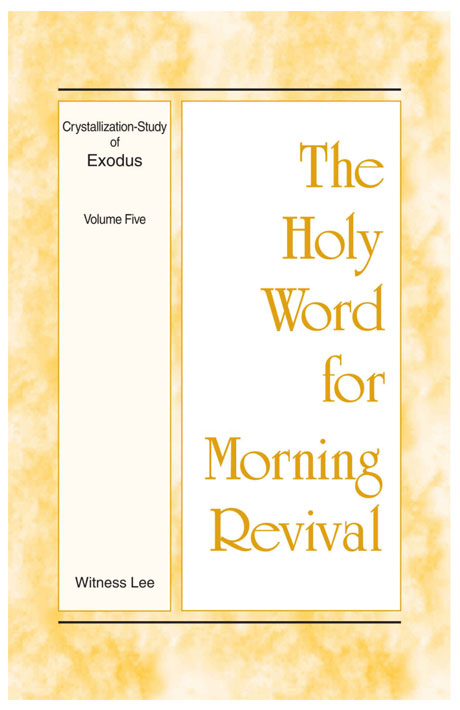 The third part of the Crystallization-Study of Exodus – based on messages given in the 2015 winter training and portions in the ministry of Watchman Nee and Witness Lee – covers the crystallized significance and Christian experience of the major items of the tabernacle such as the ark of the testimony, the lampstand, the table with the bread of the presence, the golden incense altar, the laver for washing, the altar of the burnt offering, the expiation silver, the holy anointing oil, and the incense.
It is focused on the last sixteen chapters of Exodus, which show how we can experience Christ for the building up of the church as the dwelling place of God.
You can purchase the Holy Word for Morning Revival on Exodus (crystallization study, part 2) via Living Stream Ministry online (here), google playstore here, iTunes here, and on amazon (here and here). Below is a compilation of the enjoyment and overflow in the HWMR book and in the messages given by the brothers, with the help of the life-studies and the Recovery Version Bible.
Read more: Crystallization-study of Exodus part 1, part 2, part 3, and part 4.
Crystallization-Study of Exodus (3)
The Ark of the Testimony
The Expiation Cover—the Propitiation Place
The Table of the Bread of the Presence
The Intrinsic Significance, Subjective Experience, and Organic Maintenance of the Golden Lampstand for a New Revival
The Golden Incense Altar
The Altar of Burnt Offering
The Laver of Bronze
The Expiation Silver for the Formation of an Army to Fight for God's Interests and Move on Earth
The Holy Anointing Oil
The Compound Spirit
The Anointing of the Compound Spirit
The Incense
Read more: Crystallization-study of Exodus part 1, part 2, part 3, and part 4.