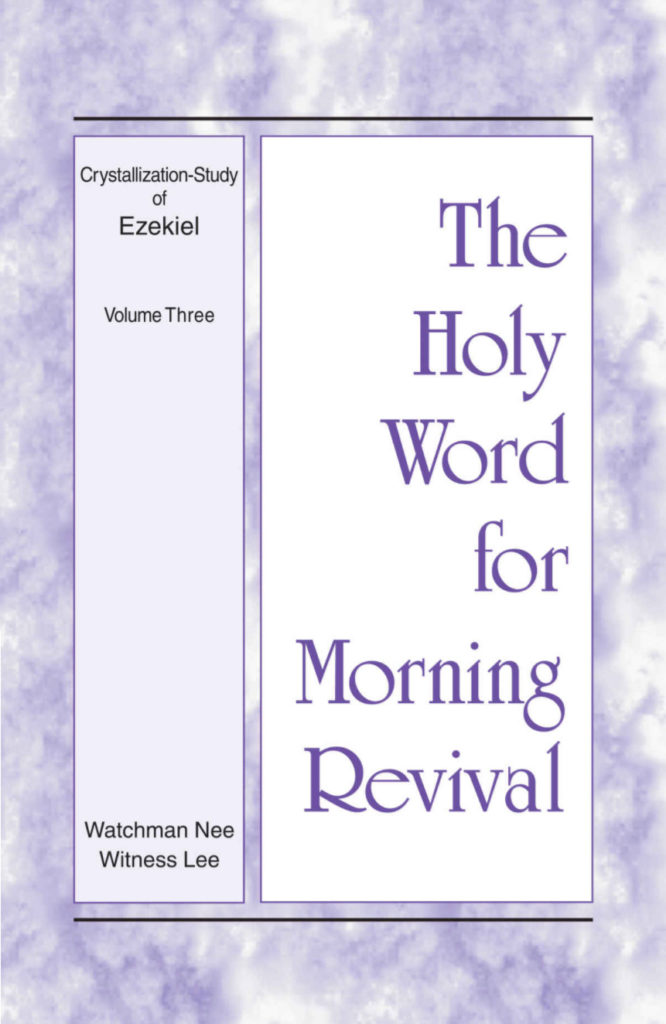 Based on the 2017 July semi-annual training, the second and last part of the Crystallization-Study of Ezekiel focuses on the last part of this book and brings out the crystals in Ezekiel 37-48.
The goal of God's visions, His recovery, and His work on and with man is to obtain a building, that is, a corporate expression of Himself.
In this portion of the word there are many significant matters such as the Lord enlivening us, prophesying for the building up, knowing that God is Jehovah, the God of blessing, the holy building of God with all its features, the humanity of Jesus for God's building, the cross, being measured for God's building, ministering to the Lord, the flow of life for the house of God, and the return of God's glory in His house.
Read some portions of enjoyment based on these two volumes of HWMR, and purchase them via Living Stream Ministry, amazon, google play, or itunes.
Crystallization-Study of Ezekiel (2) – Enjoyment from the Holy Word for Morning Revival
Week 13 – The Dry Bones Being Enlivened to Become an Exceedingly Great Army and the Two Pieces of Wood being Joined Together for the Building of the House of God
Week 14 – The Practice of Prophesying for the Building up of the Church as an Exceedingly Great Army
Week 15 – "Know that I Am Jehovah"
Week 16 – The God of Blessing and the Blessing of God
Week 17 – The Vision of the Holy Building of God in Its Outstanding Features
Week 18 – The Son of Man and the Humanity of Jesus for God's Building
Week 19 – The Cross – the Center of the Universe
Week 20 – Being Measured by God's Building
Week 21 – Ministering to the Lord to Enjoy Him as the Hidden Manna, the Budding Rod, and the Law of Life
Week 22 – The Flow of Life with the Ministry of Life out from and for the Magnificent House of God
Week 23 – The Holy Temple and the Holy City in the Holy Land
Week 24 – The Return of the Glory of God in the House of God
You can purchase the MP3 files of the messages for this series via lsmwebcast.com, and you can watch and listen to them via YouTube here.