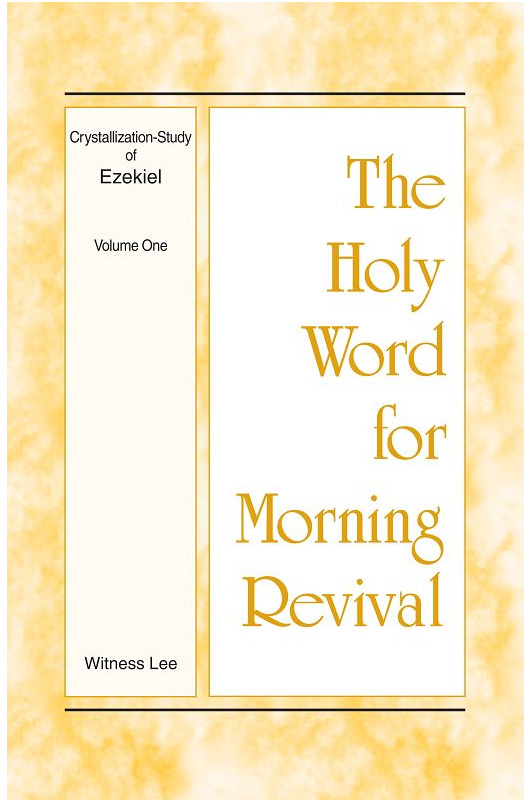 Praise the Lord for His up-to-date speaking on the book of Ezekiel! The first part of the crystallization-study of Ezekiel was given during the 2016 winter training, and we all enjoyed the holy word for morning revival for twelve weeks.
Chapter one of Ezekiel is the deepest chapter in the Bible, describing the experiences we need for us to become the rainbow city, the New Jerusalem. Wow! Enjoy below a compilation of daily prayerful study and enjoyment from the word of God, the ministry, our Christian experience, and the footnotes, concerning the book of Ezekiel (crystallization-study).
You can purchase this book via living stream, google, amazon, and itunes. The material in the HWMR is copyright-ed to Living Stream Ministry, but the content is for us all to enjoy – and share for others to enjoy also!
Crystallization-Study of Ezekiel (1) – Enjoyment
Week 1 – Visions of God and the Unveiling of God's Purpose and the Desire of His Heart
Week 2 – The Spiritual History of a Normal Christian— the Wind, the Cloud, the Fire, and the Electrum
Week 3 – The Four Living Creatures
Week 4 – The Coordination of the Four Living Creatures
Week 5 – The Wings of an Eagle, the Hands of a Man, and the Feet of a Calf
Week 6 – The High and Awesome Wheels
Week 7 – The Highest Point in Our Spiritual Experience— Having a Clear Sky with a Throne above It
Week 8 – The Man on the Throne
Week 9 – The Rainbow— the Consummation of the Experience of the Christian Life and the Church Life
Week 10 – Eating the Scroll— Eating and Digesting the Word of God
Week 11 – God's Recovery by Life through His Shepherding
Week 12 – The Inward Recovery by Life for the Carrying Out of God's Economy
Crystallization-Study of Ezekiel (1) – Banners
The most important matter for a person who serves the Lord is that he must see visions of God; under the visions from God we are directed toward God's destination, and our life is controlled according to God's economy.

God needs a group of living creatures who can coordinate together as one corporate entity, the corporate Christ, for His expression, move, and administration; their coordination is not in themselves but in God and by the divine power, the divine strength, and the divine grace.

We need to maintain a clear sky with the Lord, that is, have a clear fellowship with Him; in our spiritual experience, to have the throne above a clear sky is to allow God to have the highest and most prominent position in our Christian life.

Through His crucifixion, resurrection, and ascension, the Lord Jesus was brought to the throne, and as the Pioneer and Forerunner, He cut the path to the throne and led the way to the throne so that we may follow for the fulfillment of God's desire to bring us to the throne.