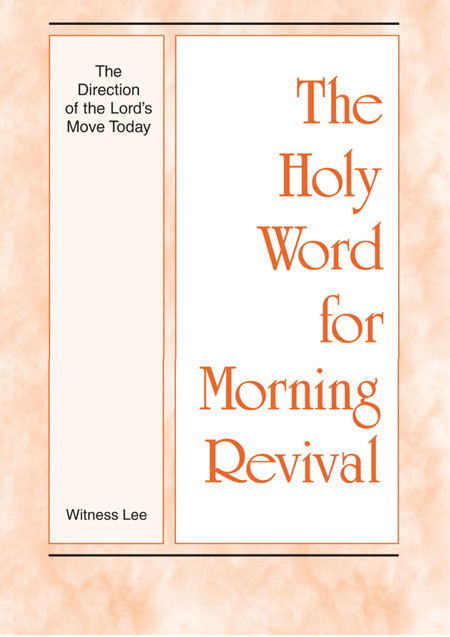 Based on the messages given during the 2016 Thanksgiving weekend conference and on the ministry of brothers Watchman Nee and Witness Lee, the Direction of the Lord's Move Today is an up-to-date speaking on what is the Lord's direction in His move.
The Lord today moves toward the building up of the Body of Christ, the preparation of the bride, and the bringing in of the kingdom of God, so that this age would end and the Lord would return to bring in His kingdom. May we be those who are one with Him in His move, those who move toward the same goal as Him, so that we can hasten His return and bring Him back.
You can purchase this Holy Word for Morning Revival book via amazon, itunes, google, and living stream. Below you can read some portions of enjoyment from this HWMR, as we go through them day by day and seek the Lord's face and His speaking.
The Holy Word for Morning Revival – The Direction of the Lord's Move Today
Week 1 – The Intrinsic Building Up of the Organic Body of Christ (1) Governed by a Vision of the Universal Body of Christ as the Goal of God's Economy
Week 2 – The Intrinsic Building Up of the Organic Body of Christ (2) The Revelation and Building Up of the Body of Christ in Ephesians
Week 3 – To Prepare the Bride as the Counterpart of the Bridegroom (1) The Readiness of the Bride
Week 4 – To Prepare the Bride as the Counterpart of the Bridegroom (2) Praising Christ as the King in Himself, in the Church as His Queen, and in All His Sons, the Overcomers as the Princes
Week 5 – To Bring In the Kingdom of God (1) The Kingdom of God as the Spreading of the Divine Life for God's Eternal Administration
Week 6 – To Bring In the Kingdom of God (2) The Exercise of the Kingdom for the Building Up of the Church