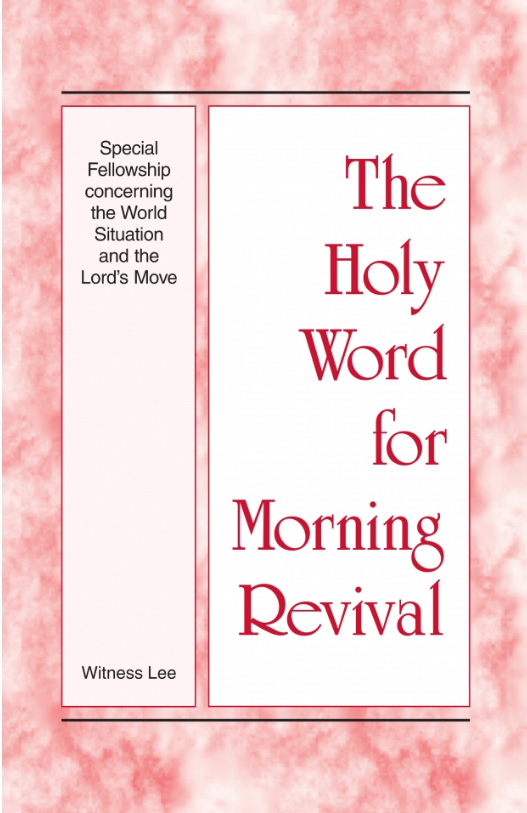 Based on the 2017 Spring Chinese Speaking Conference held in Anaheim, these five messages / weeks are titled, Special Fellowship concerning the World Situation and the Lord's Move. As believers in Christ we need to know the age we live in, see the Lord's move, be joined to His move to be one with Him, and be up-to-date with the Lord in His move.
The Lord's move today is to work Himself into man to deify man and make man one with Him so that God would move in man's move, and man's move would be in God's move. The Lord's move has many aspects, and we need to have a clear sky and open heavens for us to see what is in His heart and would be fully one with Him for His move, so that we would cooperate with His move on earth.
Enjoy this HWMR electronically via itunes, google play, amazon, and isilo lsm, and buy it online as hardbound copy here (USA). Below there are some portions of enjoyment from the messages given during this time, the morning revival portions, and the word of God with the help of the ministry. You can also watch/listen to the messages given during this conference here.
Special Fellowship concerning the World Situation and the Lord's Move (HWMR)
We need to know this age and the present truth and see a vision of God's sovereignty, the world's ultimate situation, and God's ultimate recovery in order to fulfill our ultimate responsibility in God's ultimate move by honoring the Lord as the Head and by being balanced by the Body to be kept in its unique oneness. (Banner)
Week 1 – Cooperating with God to Carry out His Move in His Economy by Knowing this Age and by Knowing the Present Truth
Week 2 – God's Sovereignty, the Divine History within the Human History, and the World Situation and God's Move to Spread His Recovery
Week 3 – Spreading the Divine Truths and Seeing a Vision of the World's Ultimate Situation, God's Ultimate Move, and the Lord's Ultimate Recovery
Week 4 – Bearing the Ultimate Responsibility in God's Ultimate Move
Week 5 – Doing Everything according to the Leading, Working, and Speaking of the Spirit, Honoring the Lord as the Head of the Body for His Unique Move, and Being Balanced by the Body to Be Kept in Its Unique Oneness
Watch / Listen to the messages for this time online below