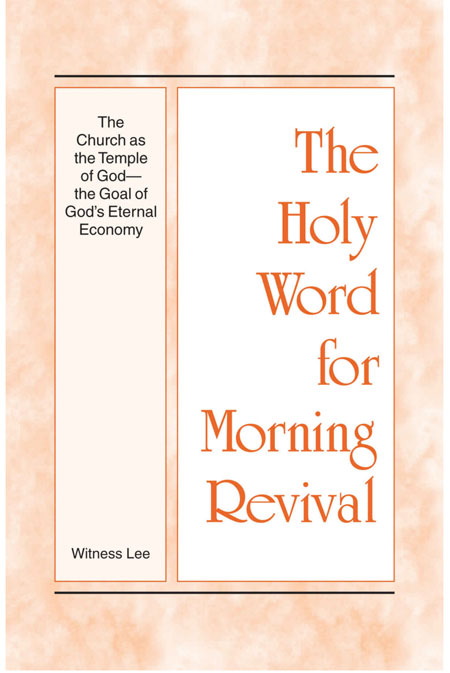 This Holy Word for Morning Revival is based on the messages given during the 2015 Thanksgiving Conference held in Jacksonville, FL, USA (which can be downloaded via lsmwebcast.com), and based on brother Nee and Lee's ministry books. We need to see the chuch as the temple of God – this is the goal of God's eternal economy!
We need to go on with the Lord from the tabernacle church life to the more solid temple church life, and we need to have some specific experiences of Christ as the more solid furnishings and items of the temple, so that we may enter into the reality of the Body of Christ.
Below is a compilation of enjoyment in the word of God, the ministry of the age, the messages given by the brothers, and our fellowship in the church life on this HWMR.
You can purchase this book via amazon, Living Stream, app store (google), and itunes.
The Church as the Temple of God – The Goal of God's Eternal Economy
Week 1: Going on with the Lord from the Tabernacle Church Life to the Temple Church Life
Week 2: The Intrinsic Significance of the Materials of the Temple (1)
Week 3: The Intrinsic Significance of the Materials of the Temple (2)
Week 4: The Economy of God, the Temple of God, and the High Peak of the Divine Revelation
Week 5: The way Christ Builds the Church as the Temple of God
Week 6: Becoming Divine and Mystical Persons Living in the Divine and Mystical Realm for the Building of the Divine and Mystical Temple of God