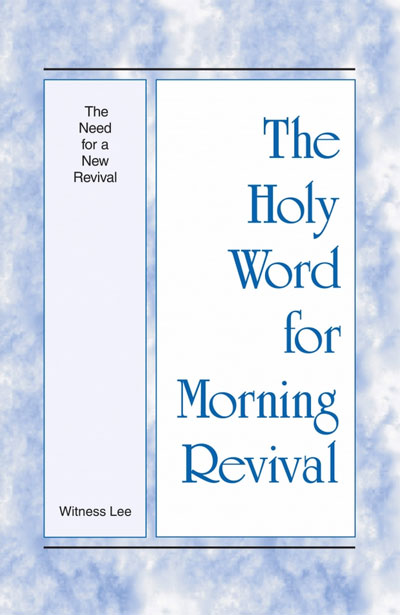 We need a new revival! This collection of articles is based on the messages given during the Memorial Day Weekend Conference in the USA (May. 22-25, 2015), and have the general subject of, The Need for a New Revival.
The Lord desires to obtain a new revival, and our desire and yearning is to enter into the new and ultimate revival that will end this age and bring the Lord back. This ultimate revival comes from seeing the high peak of the divine revelation, living the life of a God-man, and shepherding according to God.
You can purchase this Holy Word for Morning Revival via LSM, iTunes, amazon, or google play store, and enjoy below the overflow of enjoyment in this HWMR, the word of God, and the brothers' speaking in this time.
Enjoyment from the Holy Word for Morning Revival on, The Need for a New Revival
Week 1 – Reaching the Highest Peak of the Divine Revelation (1) The Vision of the Age
Week 2 – Reaching the Highest Peak of the Divine Revelation (2) Becoming God in Life, Nature, and Expression to Produce the Body of Christ Consummating in the New Jerusalem
Week 3 – Living the Life of a God-man (1) Being Discipled to Live the Life of a God-man to be Today's Overcomers for a New Revival
Week 4 – Living the Life of a God-man (1) Living in the Kingdom of God as the Realm of the Divine Species
Week 5 – Shepherding According to God (1) Shepherding People by Cherishing and Nourishing Them according to the Pattern of the Lord Jesus and of the Apostle Paul
Week 6 – Shepherding According to God (1) Becoming One with God, Being Constituted with God, Living God, Expressing God, Representing God, and Ministering God to Shepherd according to God