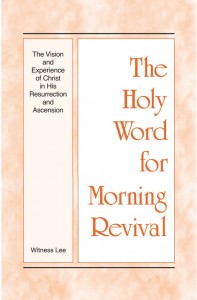 Based on the six messages given during the 2014 Thanksgiving Conference in USA and on the ministry of brother Watchman Nee and Witness Lee, the Holy Word for Morning Revival on, The Vision and Experience of Christ in His Resurrection and Ascension, gives us an overview and a deeper appreciation of what happened in the Lord's resurrection and ascension, and it brings us into a deeper experience and much prayer to enter into this reality in our daily living. Below are some articles / blog posts filled with the enjoyment and prayerful consideration of these matters in the light of the Lord's word and our experience. You can purchase this HWMR book via Living Stream Ministry (or online via amazon, iTunes, or play store).
The Vision and Experience of Christ in His Resurrection and Ascension – Banners
In the resurrection of Christ, all His believers have been brought into the union of life with the processed Triune God and mingled with the consummated God into an incorporation.

In order to be in the reality of the Body of Christ, we need to be absolutely in the resurrection life of Christ, and in order to live in resurrection, we must know, experience, and gain the God of resurrection.

In His ascension Christ was inaugurated, exalted, and enthroned to execute God's universal administration and to carry out God's New Testament economy through His Body.

Christ calls us to live with Him in His ascension as a new creation in resurrection to engage in spiritual warfare for the kingdom of God.
Week 1 / Msg. 1 – The Vision and Experience of Christ in His Resurrection (1) – The Universal Incorporation of the Consummated Triune God with the Regenerated Believers in the Resurrection of Christ
Week 2 / Msg. 2 – The Vision and Experience of Christ in His Resurrection (2) – The Seed of David Becoming the Son of God by Resurrection
Week 3 / Msg. 3 – The Vision and Experience of Christ in His Resurrection (3) – Living in Resurrection for the Reality of the Body of Christ
Week 4 / Msg. 4 – The Vision and Experience of Christ in His Ascension (1) – Christ Inaugurated, Exalted, and Enthroned to Execute God's Universal Administration and to Carry out God's New Testament Economy through His Body
Week 5 / Msg. 5 – The Vision and Experience of Christ in His Ascension (2) – Christ as the Divine High Priest Interceding for Us
Week 6 / Msg. 6 – The Vision and Experience of Christ in His Ascension (3) – Living with Christ in His Ascension as a New Creation in Resurrection to Engage in Spiritual Warfare for the Kingdom of God