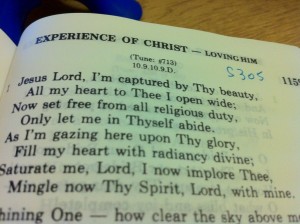 I was born and raised up as a 4th generation believer in the Lord's Recovery. Being in such a blessed situation, sad to say, I never learn to appreciate. I went through all the conferences, trainings, meetings, etc, not realizing what was I actually doing, and why was I doing all this. I tended to flee from the church life during my teenage years, yet to no avail. There is always this tiny little feeling within me that always captured me back without me realizing it.
I thought it was a 'golden chance' to "get away from the church life" when I first came to UK approximately 4 years ago. I think I did pretty well, not contacting any saints when I first arrived, not even bother to tell the saints in my original locality that I was coming to UK. The first 4 months I arrived in UK, I thought it was great. Free from my parents, free from the church life, free from whatever that has to do with meeting the saints.
Then, I realized. When everything was supposed to be so interesting and exciting, it hits me hard that they are all vanity of vanities. As what it was mentioned in Ecclesiastes 1:14, I have seen all the works that are done under the sun, and indeed, all is vanity and a chasing after wind. I have to admit – that was such a strong word that pierced through my heart at that very moment of my life, yet, I was being such a stubborn person and still, refused to turn to the Lord.
However – praise the Lord for being such a wonderful One! A brother found me in my 4th month after my arrival in UK. I was surprised, yet delighted at the same time. We then had home meetings at a family's place, where we enjoyed listening to messages releasing in the several conferences of each year. Those times were beautiful, but deep within I knew something is not enough. God wants more from me. I turned myself to Him, again and again, night by night. I came to the Lord, asking Him, You brought me all the way to Europe; there must be something You want from me, that You want me to do. But what Lord? What?
It was then a little feeling inside of me, telling me, I need a normal church life. (By then, the saints were already gone back to their own home country, and I was back to being a loner again.) I realized I need a new place to begin with, a place where I can blend with the saints, a place where I can find the Body of Christ. And Lord brought me here. I did not know how it happened, but I am here. It was all so new and strange, and I was back to square one again. One thing I did not regret of moving to this new city was, I enjoyed every moment of my Christian Life and Student Life.
It was so much different from how I used to be. Formerly, exams and assignments season were so much pain. Currently, I learn to enjoy the Lord in every circumstance in my life. I enjoyed how the Lord strengthens me in each and every situation by giving me Phil 4:13, I am able to do all things in Him who empowers me. When my friends were struggling with their assignments, I kept myself in the Lord by simply turning to Him, calling on His name, singing hymns, etc. I have to say, for the past few months, I have built up a romantic relationship with my Lord.
I love morning revival through the phone with another saint (something I never did previously because I never woke up early). I love meeting and blending with the saints. It is sweet and I just realized how much I had missed all these years from trying to flee from the Body. We enjoyed reading the Life Study of the Bible, contacting the new ones, home meetings, etc, every day I was having a foretaste of the New Jerusalem.
Then I remembered, it was a consecration that I made to the Lord when I was little, for whenever I go Lord, keep me in Yourself, never depart me from You. Often we consecrated ourselves to the Lord and we forget, but He never will. Every time I tried to run away from my Lord, He would just capture me back to Him with His love and tenderness.
Precious Lord, my flask of alabaster,
Gladly now I break in love for Thee;
I anoint Thy head, Beloved Master;
Lord, behold, I've saved the best for Thee.
Dearest Lord, I waste myself upon Thee;
Loving Thee, I'm deeply satisfied.
Love outpoured from hidden depths within me,
Costly oil, dear Lord, I would provide. (hymns #1159)
Saints, may we consecrate ourselves to the Lord when we are young so that we may be useful vessels in His hands. 2 Tim 2:22, But flee youthful lusts, and pursue righteousness, faith, love, peace with those who call on the Lord out of a pure heart. [Short testimony from sister Sarah S. from her experience of the church life in the Far East and in Manchester, UK]
Thank You Lord, for bringing me here to Europe! Use me as a stepping stone for Your move in Europe, Lord! May my life be wasted upon Thee – costly oil, dear Lord, I would provide!