Recently I experience a period of hardship that never happened before in my life. Due to this sudden and dramatic change, I stopped all my doing and turned to the Lord. While I was asking the Lord why this thing happened on me, I was enlightened by the Lord to see that I am just like the Israelites who have forsaken God as their source and made a broken cistern for themselves, and also like the prodigal son in Luke 15 who left his possession and looked for the earthly enjoyment. As a result, they become thirsty and unsatisfied.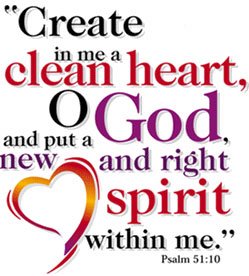 By using these examples, the Lord exposed my real situation. I realized that I am so stubborn and I am not willing to turn to the Lord. Therefore, this forced the Lord to allow this particular thing happen on me. I just have the same prayer as David did in Psalm 51:10-12 "Create in me a clean heart, O God, and renew a steadfast spirit within me. Do not cast me from Your presence, and do not take the Spirit of Your holiness away from me. Restore to me the gladness of Your salvation, and sustain me with a willing spirit". The Lord will not despise a broken and contrite heart. The only thing we need to do is to turn to the Lord and confess our sins. He will wash way all our sins by His precious blood and make us become righteous in front of Him.
I was also touch by a sentence from the outline of The Central Line of the Bible. In message four, there is this sentence: "We must have our will subdued and transformed by Christ through sufferings so that it is submitted to the headship of Christ to choose God's will". Through experiencing the outward suffering, the Lord came in to subdue my will and make me willing to choose His will. His will is to recover my first love toward Christ and to restore my enjoyment of Christ. However, God's will needs man's cooperation. There is a spiritual warfare in us, that is, to stand on God's side(in our spirit) or to stand on Satan's side(in our flesh). We have to make a decision to choose the Lord for enjoying Him every day by denying the self and giving up the world. I found out that when we come back to the word, Bible, the Lord has a chance to speak to us and shine on us because the Word is the Lord Himself. Through reading His word and calling on His name, we stir up our spirit and allow the inner life to operate in us and anoint us smoothly.
Finally, I want to share first stanza in hymn 513. "Once it was blessing, now it is the Lord; once it was the feeling, now it is His word; once His gift I wanted, now the Giver own; once I sought for healing, now Himself alone. All in all forever, only Christ I'll sing; everything is in Christ, and Christ is everything". I am so thankful to the Lord. Through this experience, I realize that sufferings are actually God's blessing in order for Christ to be formed in me and to make home in my heart. [sister Anita's sharing from her recent experience with the Lord]