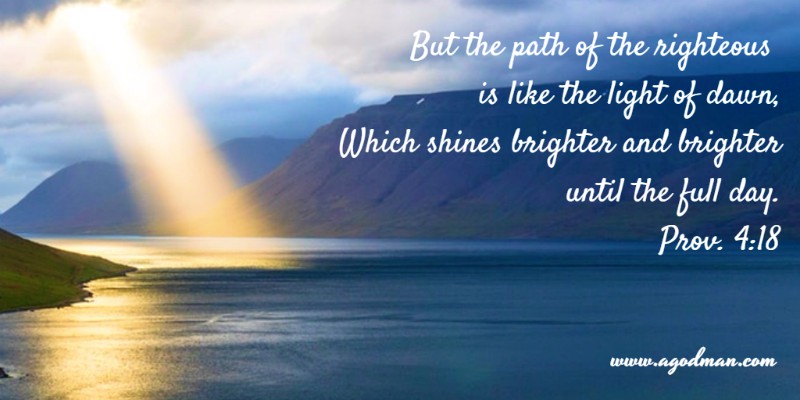 I love the Lord Jesus, therefore I must meet Him every morning. During this personal time with the Lord I am learning that God is good for food and that all Scripture is God-breathed.
I contact the Lord every morning by calling on His name. I was led this morning to go to the word of God. I am currently reading through 2 Chronicles. I pray-read this verse today:
And My people, who are called by My name, humble themselves and pray and seek My face and turn from their evil ways; then I will hear from heaven and forgive their sin and heal their land. (2 Chron. 7:14)
After pray reading this verse the Lord began to shine on me and on my sins which I confessed, applying the Lord's blood. I then sensed the Lord springing up within me and joy and peace began to fill my being. Morning revival is a time for the Lord to shine on me. I know I am short in many areas and I know my real need is the Lord Himself.
But the path of the righteous is like the light of dawn, Which shines brighter and brighter until the full day. (Prov.4:18)
Therefore I have a deep realisation not to take morning revival for granted and because it doesn't come natural and it is not always easy.
The more we go on the more we have to fight for this time.
There is also a danger of routine. I fight against routine by keeping my time with the Lord fresh and enjoyable. I always try to have a song in my heart every day which helps me to sing to the Lord in the morning.
A song in my heart recently is, Back In My Father's House (I'm So Happy Here),
I'm so happy here,
With my Father dear,
Once lost, now I'm near again!
(It was) First His smiling face,
Then His warm embrace,
I'm surprised by grace again!
I am revived morning by morning, contacting the Lord Himself and contacting His word.
On my way to work I call a vital companion and we pray for our day, pray over the verses in the Holy Word for Morning Revival, and try to recite the verses.
By the time I get to work I am revived. Praise the Lord! I am learning that there is no method; rather, there is the danger of routine and formality, and so my only goal is God Himself, just to touch the living God and His living Word.
Every morning is an opportunity to come forward with boldness to the throne of grace to RECEIVE mercy and FIND grace. Hallelujah! Mercy and grace are on the Lord's side but receiving and finding are on our side. May we be the best receivers of mercy and the best finders of grace every morning.
Sharing by bro. Moh S. (London, UK), from his practice of the morning revival time with the Lord. Share your experience as a comment below, or email it to enjoyingthelord@gmail.com.