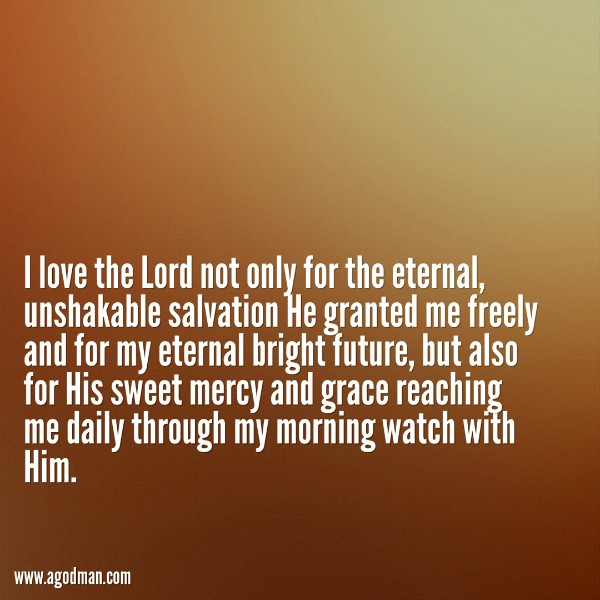 I have been saved for about 15 years now, and I love the Lord Jesus very, very much! And I love Him not only for the eternal, unshakable salvation He granted me freely and for my eternal bright future, but also for His sweet mercy and grace reaching me daily through my morning watch with Him.
He is the most worthy Person for whom I am willing to forsake not only my bed and sweet sleep but also all other things.
From the very first days when I was saved – and thousands of praise and thanks to my sovereign Beloved for this – I was taught to separate, set aside, and sanctify my morning time with the Lord out of each and every day, and to do it permanently, persistently, and in the same way that I always find time to eat and drink something – even in the most strenuous of days.
By His mercy I took this matter most seriously. Now I can testify to all the universe with a pure conscience that it has become not only my eating and drinking but moreover – my breathing.
Actually, such a practice has an unshakeable base in the Scriptures. Not only the beloved saints but much more our Beloved Lord is our pattern, for He used to rise up before the sun rose and a spend much time in prayer.
Oh, the morning watch and morning revival time with the Lord is truly indispensable!
However, in my experience I realized the undeniable fact that, the more precious a certain thing is, the more fierce is the war waging for it… Hardly any reasonable creature would struggle for worthless things…
From all my failures and defeats in the matter of the morning time with the Lord I have learned several crucial things which I observe for my continuous and steady morning revival time every day:
I need to have earnest prayer to the Lord before going to bed, asking Him to wake me up in the morning and have a time with Him.
I need to have at least some time in the Word and prayer before going to bed the previous night.
It is good to set several alarms very close to the appointed time.
I need to make sure I put the alarm clock or the phone as far from my bed as possible.
I need to readily rise from bed and NEVER try to pray, call on the name of the Lord, or read the morning revival in bed.
Even as I do my hygiene, use the toilet, and do other usual things in the morning, I don't have to wait silently and passively until I read the Bible; no: our best time of the whole day starts from the very moment we open up our eyes!
It is very helpful to drink one or two cups of pure water at room temperature.
I need to ALWAYS do it with the sound resolution and realization that our time with the Lord is our real need, and I should not do it with a religious or a natural zeal.
Sharing by brother Edgar H. (Armenia) from his experience of enjoying the Lord in the morning.