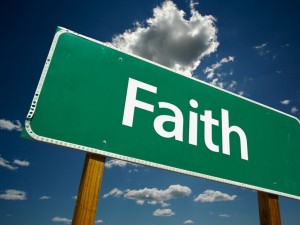 Every day we realize that our spirit is crucial to God's economy and to our enjoying of God's dynamic salvation. Every morning in our time with the Lord we learn again and again to exercise our spirit in a fresh way to contact Him. Our spirit is mingled with the divine Spirit – as soon as we have a clear sky between us and the Lord by applying His precious blood, we can abide in the Lord and He can abide in us! Praise the Lord for this wonderful organic union between us and the Lord in our mingled spirit!
the spirit of faith is our mingled spirit
In 2 Cor. 4:13 Paul says, And having the same spirit of faith according to that which is written, "I believed, therefore I spoke," we also believe, therefore we also speak. What is this "spirit of faith"? Is it the Spirit of God only or is it the spirit of man? A famous Bible comentator, Alford, said that it refers to "the indwelling Holy Spirit penetrates and characterizes the whole renewed man". Vincent, another respected comentator, says, "not distinctly the Holy Spirit, nor, on the other hand, a human faculty or disposition, but blending both".
Today, we are so privileged to know that the spirit of faith here refers to our spirit mingled with the Holy Spirit! Faith is not in our mind – rather, what we have in our mind what we have is just doubts. Faith is in our spirit because it is mingled with the Holy Spirit! We must exercise such a spirit of faith to believe and speak (see Psa. 116:19 and 2 Cor. 4:13). Faith is a reaction to the appearing of God, and it is absolutely of our spirit. In our spirit we can know God and it is here that we need to live a crucified life in resurrection, just like the apostles did for the carrying out of their ministry (see note 2 in 2 Cor. 4:13).
a union of coexisting and coinhering
God desires to be one with man, and the Spirit's union with our spirit is much deeper and richer than a co-existence – it is an organic union. We can co-exist with other members of a certain club or union, but we cannot be organically one with them. The organic union we have with the Triune God is a matter of coinherence – God lives in us and we live in God! This is what the Lord is talking about in John 15:4, "Abide in Me and I in you". We take the initiative to abide in the Lord by exercising our spirit, and the Lord abides in us by being joined and mingled to our spirit!
1 John 4:15-16 also speak of God abiding in us and us in God – this is a mutual abiding, a coinherence. Our oneness with God is not just unity but it is the Triune God including us in His divine oneness! After we were regenerated to have God in us as our life and nature we are in this organic union with God. We need to know and experience God in such a away – He is in us and we are in Him. Practically, in our daily living and our daily walk, we need to abide in the Lord by remaining in our mingled spirit to enjoy all that He is. Thank God – He put us here, never to leave – oh, we're abiding in Christ as the vine!
References and Further Reading
Lord Jesus, thank You for uniting and mingling Yourself with our spirit! We thank You, Lord, for our mingled spirit. Save us from remaining in our mind, where doubts are…. Cause us to run to, flee, and remain in our spirit – where faith is! Oh, Lord, we want to live in this organic union with You in our spirit! Keep us abiding in You today. No more in vain need we struggle – trying the way in to find! Hallelujah, we are in Christ!