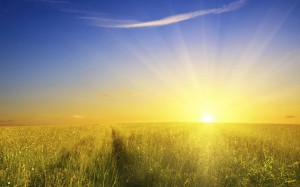 Paul's gospel is the complete gospel and the basic gospel, speaking of Christ as the Spirit becoming one with us to be everything to us! Actually, Paul's gospel is a Person – he preached Christ crucified, and he ministered Christ to people. Paul received the revelation of Christ in a personal way from God Himself, and he spoke of the Christ he has seen and enjoyed! Paul's gospel is a revelation of the Triune God processed to become the all-inclusive life-giving Spirit (see 1 Cor. 15:45, 2 Cor. 3:17, Gal. 3:2, 5, 14).
the gospel is the Triune God being our life
Too long have we been under the influence of the low gospel preached in Christianity in the past. We may have been saved by such a gospel, but according to the Bible the complete gospel is not only something like "believe in the Lord so that you will not go to hell but go to heaven" – no, the gospel is much more! Paul's gospel is centered on the Triune God being our life in order to be one with us and to make us one with Him, that we may be the Body of Christ to express Christ in a corporate way (Rom. 8:11; 12:4-5; Eph. 1:22-23).
The gospel of God – which is the gospel of Paul as seen in the book of Romans – concerns not an outward physical Christ living among men but Christ as the Spirit living within the believers after His resurrection. This is a higher and more subjective gospel than what is presented in the Gospels. Christ is now the life-giving Spirit living in our spirit, making our spirit life! When we set our mind on the spirit, our soul becomes life (Rom. 8:6). Eventually, even our physical body will be filled and saturated with the divine life (Rom. 8:16). This is the gospel!
Paul's gospel – the entire book of Romans
Paul's gospel is the gospel of God, and it includes the entire book of Romans, comprising all the sixteen chapters. It is not only the "gospel portions" about perdition and salvation, but every chapter in this book is the gospel of God! From God's condemnation to justification, sanctification, glorification, transformation, and the local churches – all these are aspects of the complete gospel of God! Here are more details in Romans concerning the gospel of God:
O, Lord, open our eyes to see the gospel and speak the complete gospel! Unveil us, Lord, to see the gospel of Paul! Christ became the life-giving Spirit! The divine Spirit is mingled with our spirit and witnesses with our spirit that we are children of God! What a gospel! We are being justified, sanctified, and transformed! We are the Body of Christ expressed in the many local churches – this is the gospel!