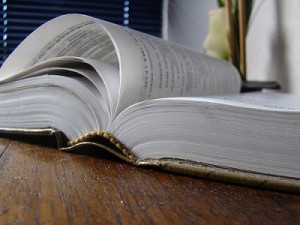 The first four books of the New Testament are called, The Gospels – the gospel of Matthew, the gospel of Mark, the gospel of Luke, and the gospel of John. But there is yet another gospel – the gospel of Paul – which is the book of Romans (and all Paul's Epistles). This gospel is the complete gospel – it includes all the aspects of the gospel in the four gospels and speaks further of the gospel of God, even the gospel of Christ (Gal. 1:7). Paul even called it, my gospel (Rom. 16:25).
Paul's gospel is the complete gospel
Paul's ministry is to complete the word of God, and his gospel is the basic gospel and the complete gospel, including all the aspects in the four Gospels. Paul's gospel speaks of Christ in the heavens and as the Spirit, while the other gospels speak of Christ on the earth and in the flesh. The four gospels speak a lot about outward things (like the miracles, signs, Christ's birth, living, death, resurrection) while Paul's gospel speaks of the inward experience of Christ as the Spirit for the Body of Christ.
Praise the Lord, the gospel is not about an outward historical Christ but it concerns the Triune God being processed and consummated through Christ's incarnation, human living, crucifixion, resurrection, and ascension, to become the life-giving, all-inclusive, compounded, indwelling Spirit who mingles Himself with our spirit to accomplish in us God's purpose in creating man. This is what Paul's gospel reveals, and his Epistles form the heart of the divine revelation in the New Testament, the center of the New Testament.
Paul's gospel and the Four Gospels
Paul's gospel includes all the aspects of the four gospels. This morning I was encouraged to briefly see how Paul completed the Word of God by including in his writings all the main points in the four gospels and then going further to expound God's economy, God's purpose, His heart's desire, to have the church as the Body of Christ to express Him in many localities on the earth. Here are some specific points concerning this:
Lord, open our eyes and open our mind to see the complete gospel of Paul. Save us from having a low appreciation of the gospel in the New Testament. Lord, uplift our view from seeing Christ on the earth in the flesh to seeing Christ in the heavens as the Spirit dispensing all He is and has accomplish into us for the building up of the Body! O, Lord, may Paul's gospel be our constitution until it becomes "our gospel"