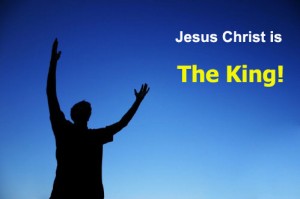 Psalm 45 is a psalm praising Christ as the King in many aspects. On the one hand, Christ is "fairer than the sons of men; grace is poured upon Your lips; therefore God has blessed You forever"(Psa. 45:2) – Christ is fair, He is lovely, grace comes out of His mouth through His words, and God has blessed Him forever since He was moved to see such a wonderful Person expressing Him to the uttermost. People were marvelled to hear the words of grace proceeding out of the Lord's mouth(Luke 4:22). Christ is "God blessed forever"(Rom. 9:5) – Christ is both God and blessed forever! On the other hand, in the next verses Christ is being praised as the King in His victory!
Praising Christ as the King in His victory
All humanity has been defeated – only Christ is Victor! He is girding His sword upon His thigh as a mighty One – in His majesty and His splendor(Psa. 45:3). His majesty and His splendor are signs of His victory, and Satan with his fallen angels see Him as such a victorious King and tremble! Jesus Christ is the King – the victorious King, the One who defeats the enemy!
Verse 4 continues to say, "And in Your splendor ride on victoriously / Because of truth and meekness and righteousness…" When the Lord Jesus was on earth, He rarely expressed His splendor(apart from the mount of transfiguration, Matt. 17:1-2), but after He resurrected, He entered into glory and He is full of splendor and majesty(Acts 26:13-15, Rev. 1:9-20). He is a God-man King who rides on victoriously because of truth(He is the reality) and meekness(He didn't respond to those who persecuted and eventually killed Him) and righteousness(He was right with God and with man, He is righteousness itself!).
Christ performed some awesome deeds when He was on the earth(Psa. 45:4) – He was crucified, He was resurrected, and He was ascended! We treasure His awesome deeds, and they are precious and meaningful to us. But to Satan and his fallen angels, these awesome deeds make them run away and be frightened! The king's arrows are sharp and they are in the hearts of His enemies – when the enemies see Christ's awesome deeds, they are defeated! Peoples fall under Him – He is victorious! Praise the Lord for His awesome deeds! He is an awesome King!
Praising Christ as the King in His kingdom 
The psalmist praises Christ the King in His kingdom – and the kingdom is an issue of His victory! As the victorious King, Christ triumphed over everything and everyone, and He rules as a king: He won the victory! The Lord Jesus Christ is the victorious King – and His throne is forever and ever(Psa. 45:6, Heb. 1:8)! His authority is established and "the scepter of uprighteness is the scepter of Your kingdom"(v. 6b). Christ's authority is altogether upright – not like the authority of most human governments and high officials today. Christ loves lighteousness and hates wickedness(v. 7). He is not corrupted or wicked like many people are today, neither is He involved with such people – He hates wickedness and He loves righteousness! Christ our King rules in righteousness, and His authority is established!
Christ has been anointed above His companions
Such a Christ – the Victorious One, the righteous One, the One performing awesome deeds, the righteous and victorious King – has been anointed by God with the oil of exultant joy above His companions(Psa. 45:7). Christ has been anointed by God because all of His attainments and accomplishments – He has been anointed above all the believers, His brothers and companions. Christ has been anointed for the purpose of the kingdom – everything that He did was for the kingdom, for God to have a spiritual realm where He can rule and reign. The Spirit of God has been poured out upon the Lord Jesus to anoint Him…
[sharing inspired from message 20 of the life-study of Psalms(by brother Lee), as quoted in the Morning Revival on the Crystallization-Study of Psalms (1); you can get the morning revival book online or become a fan on Facebook for more updates ]
We love You our victorious King! You gird Your sword upon Your thigh as a mighty One – in Your majesty and splendor! Lord, we praise You for Your awesome deeds! Praise You Lord for Your crucifixion, Your resurrection, and Your ascension! You are the victorious One, and You have defeated Your enemies! Your throne is established and You rule forever and ever! The scepter of uprightness is the scepter of Your kingdom…