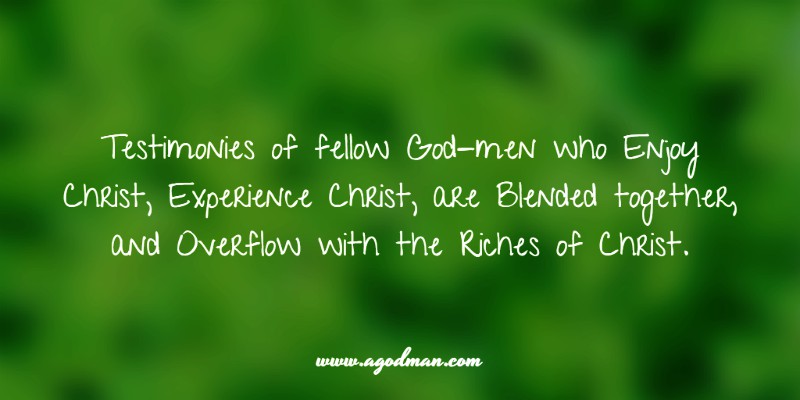 As believers in Christ, we are those who "call on the name of the Lord in every place – who is theirs and ours". We daily enjoy the Lord and experience Him… On this page we have compiled some of the testimonies that the saints / believers in the Lord had and were posted on this blog. For the sake of "easy to find", they are listed on this page below. Enjoy reading them and, if you want to share your testimony (your experience of Christ), please send us an email at enjoyingthelord@gmail.com.
European Young People's Conference in Poland
Every year from 1995 or so the young lovers of Christ get together close to Zakopane to enjoy the Lord and be under His speaking and blending from all over Europe and the Americas. See the details for the conference here, and read some testimonies below:
Winter School of Truth in the UK
At the end of each year there's the "Winter School of Truth", a whole week when the young people together with their helpers and serving ones get together to enter into the truth together. There are games, activities, gospel time, morning revival, much enjoyment, many verses memorized, much prayer, lots of snacks, good rest time, lots of fellowship… Read some of the testimonies from the young people and their serving ones after attending the Winter School of Truth.
Testimonies from Christian Students
For a short period of time in our life, we are "students" – studying on the campus for God and His purpose. We are being shaped, formed, trained, and modeled in the secular knowledge so that our vessel would be prepared and our skills would be formed – but not for the world to use and usurp, but for the Lord to use for His economy! Read some of the testimonies of the Christian students who are enjoying the Lord on the campus all around the world.
Full Time Training – Trainees Testimonies
Throughout the ages, many poured out their life upon the Lord Jesus – to those who love Him in such a way, He is altogether worthy of their offering! Today as young people we can consecrate to the Lord two years of our life – at least! – to be trained in the knowledge and enjoyment of the Word, in Christian life, serving in the church life, and in character. Read some of the testimonies of the trainees in the different Full Time Trainings around the world (especially those in FTTL, London).