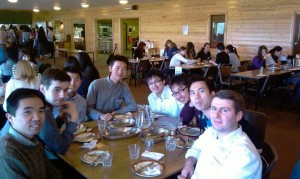 I thank the Lord for bringing me to the Spring 2011 College Age Conference in UK. This is my first time attending this conference and I enjoyed it very much. The messages released were on the book, Gospel of John, and they brought me into a deeper appreciation of my dear Lord Jesus with His perfect humanity. He is altogether lovely! Moreover, I am enlightened to see that "the Lord's recovery is a recovery of loving the Lord Jesus!" (Life-Study of John, Msg.6).
I would like to begin my sharing with the lyrics from a hymn:
Lord Jesus, You're lovely. / You're more to be desired, / Than any earthly pleasure. / Lord Jesus, Your beauty / Does far exceed all others. / You're comely and You're tender. / You're radiant and You're fair. / … May all my days be Yours, Lord, / My heart be given to love You, / To treasure and to serve You / By Your sufficient grace.
He is a person full of affection – demonstrated by giving life to the needy ones and taking care of His disciples. He fed the hungry, quenched the thirsty, and shepherd the blind etc. For His disciples, He humbled Himself and washed their feet (John ch. 13), and He shepherded the disciples even when they went out fishing after His resurrection, giving them "abundance of fish" (John 21:6)! He loves His people so much and He wants us to just love Him back. In the Gospel of John, chapter 21, He asked Peter three times: "Do you love Me?" How we need to love Him!
"The more we love Him, the more we enjoy His presence" (Life-Study of John, Msg.6). In the past, I told the Lord everyday: "Oh, Lord, I love You!" However, this is only a way of outward speaking with some degrees of inward emotion with little reality. The brother shared in the conference that the Lord's word and loving the Lord goes together, which means, if we love Him – we need to read His word every day! What a revelation – this was such an enlightening to me! Also, we need to spend time with the Lord in His Word. An example in the Gospel of John is Mary. She, knowing that the Lord is going to die, poured out her most precious anointment upon the Lord out of love towards Him. The more we spend time in His Word, the more we will love Him.
This is true in my experience at this conference. I had the clear feeling that the Lord is extremely lovely through getting into His word as quoted in the Gospel of John! What I want to share is that our love toward the Lord needs us to take time to behold Him! Where is the Lord today? John 1:1 says that "In the beginning was the Word, and the Word was with God, and the Word was God." Christ today is in His Word, and the way to contact Him is to come to His Word through the exercise of our spirit! How we need to love Him by eating His words, having a living contact with Him, so that we may enjoy His presence with us! [this is sister Amber's sharing from her top enjoyment from the recent Spring 2011 College Age Conference in Wales]