This morning I was impressed with how short, how vain, and how passing man's life is. David prayed to the Lord in Psa. 39:4-5,
O Jehovah, cause me to know my end, and the measure of my days, what it is. May I know how transient I am. Behold, You have made my days as mere handbreadths, and my lifetime is as nothing before You; surely every man at his best is altogether vanity. Selah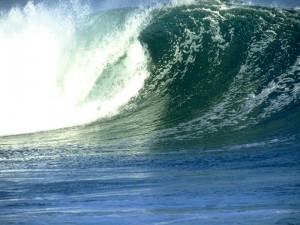 The Lord wants us to realize that we as human being are nothing and vanity – today we are here and we think we can do great things, but tomorrow we're passing away. Even more, our condition is sinful, and our situation is one of vanity. This is why the Lord Jesus came as light and life to us – He came to shine on us and show us our real condition, and then to fill us with His life! God wants us to be replaced with Christ – the way to be saved from a vain life and a sinful condition is to be replaced by Christ in our organic union with Him!
This is what Paul realized and expressed in Gal. 2:20 where he said, "I am crucified with Christ and it is no longer I who live, but it is Christ who lives in me". Christ has crucified us and has come to replace us – in our organic union with Him! By faith in Christ we are joined to Him and we receive Him, and by loving Christ we enjoy Him and are replaced by Him. Daily we need to kiss the Son, love the Lord, spend intimate time with Him to be infused by Him… In this way we cultivate and develop our organic union with the Lord, our life relationship – and He can come in to replace us with Himself and live Himself through us! This is what God desires and this is the entire revelation of the New Testament: no longer I but Christ!
To believe into the Lord is to receive Him; to love the Lord is to enjoy Him(life-study of Psalms). We may think we love the Lord, but when He comes and exposes us, just like Peter, we fail Him again and again…. Yet the Lord does not give up on us: He comes to us in a shepherding way to recover our love for Him(John 14:15-17). Especially when we are young, we may boldly tell the Lord that we love Him and will never deny Him – but as we get defeated and exposed daily, our natural confidence in our own love for the Lord is dealt with…
We really cannot love the Lord in ourselves – we need to learn to follow the Lord and love Him without any confidence in our natural strength. Whenever you have the chance, just kiss the Son(Psa. 2:12)! Just love Him – do not care for anything else. And as you are exposed, don't give up – take refuge in the Lord, hide in Him under His precious blood, and allow Him to replace you with Himself!
By spending time with Him we are strengthened in our organic union with Him, and by loving Him we allow Him to replace us more with what He is – and Christ will live in us! [sharing inspired from the life-study of Psalms(by Witness Lee), as quoted in the Morning Revival on the Crystallization Study of the Psalms – become a fan on Facebook for more updates, or read more portions on the Crystallization of Psalms. Intro: human life is vain without the Lord. Picture source: ocean waves.]
Lord Jesus, we love You! We are vain and empty without You, Lord! Thank You for faith and love – we can believe into You and we can love You! Lord, strengthen our love towards You. Strengthen our time with You every day. We just want to give ourselves to love You, treasure You, and enjoy You! Lord, replace us today! Replace us in our organic union with You! May we yield to You, Lord, and give You the ground that You need in our being!