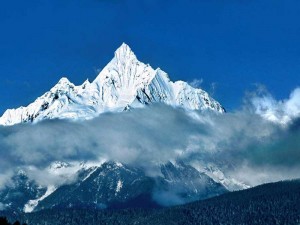 There are many verses in the New Testament speaking about our organic union with the Lord, and one of the greatest verses in the Bible is 1 Cor. 6:17, He who is joined to the Lord is one spirit. What does it really mean to be one spirit with the Lord? This union implies that Christ is in us and we are in Him, but it also implies that He has joined and mingled Himself with us, making us both one. How wonderful – we are one spirit with the Lord! Organically, we are blended with the Lord, and in life, we are mingled with Him!
absorbing all God is into us
Just as the branches in the vine absorb all the riches of the vine and bear fruit, so we as branches in Christ the vine absorb all the riches of Christ! We have been rooted and grounded in Christ, we are one spirit with the Lord, and we need to remain here in this organic union absorbing all the riches of Christ into our being. In this organic union, in this eternal kiss between God and man in our mingled spirit, we are made one with God and we are blended together in life organically to be one spirit!
we are God-men one with God
When we were regenerated, the divine life came in, and we became God-men – not only men, but men with the divine life, man with God in their being. Day by day we can enjoy the divine life in our mingled spirit because the regenerating Spirit has remained in our spirit and became one with our spirit! It is not a small thing to see that we are mingled with God by being one spirit with God. We may be people going about doing the daily things we need to do, taking care of our families, our job, our school, etc, but we are actually one with God and God lives in us! Just like the chorus in Hymns #501 says,
O, Christ! Expression of God, the Great,
Inexhaustible, rich, and sweet!
God mingled with humanity,
Lives in me, my all to be!
Christ as the embodiment of the Triune God has become the life-giving Spirit mingled with our spirit – and now He imparts all that God is into every part of our being. The ultimate result of the mingling of God with us is that we become the same as God is in life and nature but not in the Godhead! We need to see the key to God's salvation and the practical way to our experience of God – our mingled spirit! We are in Him and He is in us – we are one in life (see John 14:20, 15:4-5).
God-men living the human life by the divine life
The believers in Christ – the genuine Christians, those regenerated with the life of God – are a special kind of people: they do not live their human life by themselves and in themselves, like everyone else does. They live the life of a God-man by living the divine life in their human life. As seen in Gal. 2:20 and Rom. 8:4, we live but it is not us – it is Christ living in us. Our life now is hidden with Christ in God, and daily we turn to our spirit to enjoy Him and experience the living of Christ in us. A mingled living in the mingled spirit!
References and Further Reading
Thank You Lord for making us one spirit with You! Cause us to realize the implications of this wonderful fact. We want to experience You in our spirit and express You in our living. Save us from living a life in and by ourselves – may we live and walk in our mingled spirit. Lord, organically save us from not living Christ – may it be no longer us but Christ living in us! More and more in our daily life, Lord, we want live out the life of the two spirits mingled as one, a mingled living!