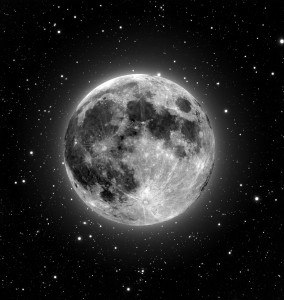 In Psalms 8 David looked at the heavens and saw the work of God's fingers – even in the dark night of this world, if you look at the heavens you see the moon and the stars! God created and ordained the moon and the stars to shine even in the darkness – when we look at God's creation and ordination, we see that there is a divine order in this universe. We need to look up from our situation, look up to the heavens from any dark environment or surroundings – and look to the Lord!
When you receive bad news, when you're around people who gossip, when the world is trying to fill you with its rubbish, and whenever you feel that there's darkness around you – at any time, just lift your eyes up to the heavens! Look up from the messy earth to the bright heaven! This is what David did in Psalms 8:3-4 when he said,
When I see Your heavens, the works of Your fingers, the moon and the stars, which You have ordained, what is mortal man, that You remember him, and the son of man, that You visit him?
After he looked up to the heavens, David's view was directed towards man – God created the heavens, the earth, and everything in the universe for man! Yes, man is mortal; yes, man is a little inferior to the angels, and yes, man is so small that he seems insignificant – but God's plan and His purpose is related to man and is concerning man! On the one hand we need to look up to the heavens and see the divine ordination, but on the other hand we need to look at man in God's ordination!
God chooses to remember man and come to visit man! Actually, this is what Psalms 8 tells us – God wants to bring heavens down to earth and bring the earth to the heavens, to join and mingle the earth to the heavens for the fulfillment of God's purpose! Don't just look up to the heavens and that's it – rather, remember that even though man fell in Adam, he was redeemed in Christ!
In Genesis 1:26 we see that man was created by God; in Psalms 8 we see that man is fallen and corrupted by Satan, with a promise / vision of being redeemed; and in Hebrews 2:6-8 we see that God redeemed man and recovered man to be the person in His purpose accomplishing His economy! Now man is no longer pitiful – he is joined to Jesus, THE MAN in God's plan who accomplished redemption!
God remembered man and visited man in the incarnation of the Lord Jesus! Then Christ accomplished redemption – and became one with man in an organic union! Now man is joined to Jesus and is even one with Jesus! All man's problems have been solved through Christ's death, and then Christ resurrected and ascended to be crowned and enthroned with glory and honor! In His resurrection He was breathed into us and also poured out upon us – we have Christ within and Christ without covering us!
Praise the Lord, we are men who have been mingled with Christ! Praise the Lord – God remembered man in His economy, and He visited man in His incarnation! This is part of God's purpose – God became a man to make man God in life and in nature but not in the Godhead! God became a man – He brought heavens to the earth, He was incarnated to visit man, and even more: in His resurrection He visits us and is here with us to stay and be with us forever! In His resurrection, God brings man into God, He joins the earth to the heavens, and makes man God in life and nature but not in the Godhead!
He visits us – today we are in the day of His visitation(1 Pet. 2:12) – with overseeing care, and He continually visits us every day! Luke 1:78 tells us that the rising Sun will visit us from on high with healing in His wings – we need to allow Him to fly in us, around us, and out of us, by spending personal and intimate time with Him!
[sharing inspired from the life-study of the Psalms as quoted in the Morning Revival on the Crystallization Study of the Psalms – become a fan on Facebook for more updates, or read more portions on the Crystallization of Psalms. Intro: What is mortal man? Picture source: the moon and the stars(via NASA)]
Lord Jesus, You are that man in Psalms 8! You came as the God-man to visit us! Thank You for not leaving us in our fallen and corrupted state! Thank You Lord for remembering mortal man. Praise You Lord for visiting the fallen and pitiful man! Through Your death You have solved all man's problems! In Your resurrection You have come into us to regenerate us and make us the New Man, one with Christ! We praise You, Lord, for this wonderful organic union we have with the Lord!