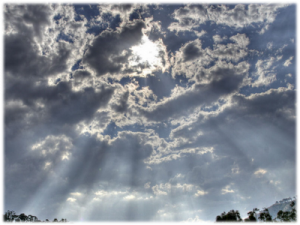 Psa. 15:1 says, O Jehovah, who may sojourn in Your tent? Who may dwell on Your holy mountain? These questions can be rephrased as, What kind of man may dwell with God for His heart's desire and good pleasure? David's answer to this question in Psalms 15 is a good man, not an evil man, but a righteous man who keeps the law. You know what, even the teachers of philosophy and the moral and ethical people would agree with this. Actually, every religion on earth would teach people that good men can dwell with God but not evil men can't.
Only Christ can sojourn in God's tent and dwell on His holy mountain
O Lord Jesus! According to the divine revelation of the Bible though, it is not a good man nor an evil man that can dwell with God or can be pleasing to God – God does not want "a good man" or "an evil man" – God wants a God-man! This is what God's reaction is in Matt. 17:5 towards Peter and the disciples on the mountain of transfiguration when he suggested that "it is good" to have both Jesus, Moses(the law), and Elijah(the prophets),
While he was still speaking, behold, a bright cloud overshadowed them, and behold, a voice out of the cloud, saying, This is My Son, the Beloved, in whom I have found My delight. Hear Him! 
Only Christ as the unique and also the first God-man can satisfy God and dwell with God! Christ is the only One who is perfect according to the law and has fulfilled God's law! God desires only Christ – not a good man, not a righteous man, but Christ! His response to all our questions is – I want Christ! Who can sojourn in God's tent? Christ! Who can dwell with God on His holy mountain? Christ!
No Flesh Can Be Perfect By the Law
Everyone else has broken the law – including David, who wrote the psalm! David exalted the law so highly and treasured it – he loved speaking about the law and his desire to be the righteous man who fulfills the law. But David also failed to keep the law to an extreme point especially when he failed in the incident with the wife of Uriah: he broke the last five commandments by killing, committing adultery, lying, coveting, etc (see Exo. 20:13-17 and David in 2 Sam 11).
As the Apostle Paul says in the New Testament, there is no way for any man in the flesh to be perfect or justified by the law! The only One who can keep the law is Christ Himself, the person revealed in Psalms 16! The question is in Psalms 15, but the answer is in Psalms 16, where we see the God-man, Christ, in His perfect human living. It needs to dawn on us – we need to clearly see – that God does not want a good man or an evil man, a "righteous man" or an un-righteous man, a right man or a wrong man – God wants a God-man, God wants Christ!
Christ is God's Beloved, and He pleases God: Hear Him!
Christ is the very God who became a man, lived a perfect human life(Psa. 16:1-8) expressing God's divine attributes through His aromatic human virtues. He died on the cross (vv. 9-10), was resurrected(vv. 10-11), and was ascended to the right hand of God(v. 11). This One, Christ, can sojourn in the tabernacle of God and know God's heart's desire. It is not you or I, it is Christ who can dwell with God in His tabernacle. We need to allow Christ to live in us and live through us, so that we may be those who please God and live with Him in His tabernacle!
Praise the Lord for Christ, the One who satisfies God and can dwell with God on His holy mountain! [sharing inspired from the life-study of the Psalms, as quoted in the Morning Revival on the Crystallization Study of the Psalms (week 4 day 1) – become a fan on Facebook for more updates / join the Morning Revival group, or read more portions on the Crystallization of Psalms. Intro: This is My Son the Beloved]
Lord Jesus, we love You! You are the One whom God loves and desires to have reproduced and duplicated in us! Only You can fulfill the law and satisfy God. You are that man who can sojourn with God in His holy tabernacle! You are the Man according to God's heart. You are God's Son, the Beloved, in whom God finds all His delight. How we treasure you, Lord. How we love You… we simply want to open to You and allow You to live in us this kind of life that God is pleased with!