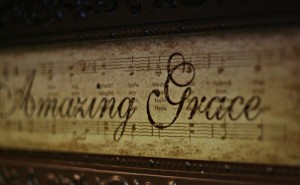 We all are just sinners saved by grace – it is not of our own merit, and we are no better than any others. It is by His grace and mercy that we now believe into the Lord and that somehow we are still on His way, following Him and enjoying Him. Just like David, we may see the highest of the revelations, and very soon afterwards we may live in our flesh and fail the Lord miserably…. In situations like these we learn to repent to the Lord and confess our iniquity, not cover it up or blame others, and He is faithful in His blood and righteous in His name to forgive us and cleanse us from all our sins(1 John 1:9).
He who is forgiven much loves much!
The angels cannot utter such a praise and such deep prayers of both repentance and praise for being forgiven – it is only us, sinful people who are saved through grace, that can taste such sweet forgiveness and praise to the Lord! He loved us and forgave us – even a sinful wretch like me! Amazing grace – how sweet the sound, that saved a wretch like me… – John Newton, a slave trader and a very rebellious person, realized that it was through grace that he was saved, and he loved the Lord so much! We are forgiven much, therefore we love Him much!
enjoying Christ as the sin-dealing life
First of all, we need to enjoy Christ as the sin-dealing life. In the church life there are all kinds of saints, and sometimes we may see some saints either sinning or living in sin. First of all, we ourselves need to enjoy Christ as the sin-dealing life – eat Him in the Word, pray over the Bible, inhale the Lord, breathe Him in… We all have the same disease, and it's only a matter of time until it is manifested in us. We need to enjoy Christ as life, even as the sin-dealing life, the sinless life, the sin-offering, the One in whom Satan has no ground, no way, no hope in anything!
learning to minister Christ as the sin-dealing life
It is only after we enjoy Christ as the sin-dealing life that we can also minister Him as such to others. In Leviticus the priests were to eat the sin offering in the holy place that they may make expiation for the people of Israel before Jehovah(Lev. 10:17). As we enjoy Christ as the sin-dealing life, we have an enlarged capacity to bear away the iniquity of God's people – by learning to minister Christ to the dear saints who are in sin. Ministering Christ as the sin-dealing life to the saints kills the germs, destroys the problems, and maintains the oneness of the Spirit (John 8:1-11; 1 John 5:16; Rom. 2:4b; Gal. 6:1; Psa. 51:13).
We do not have to point out the sin or to condemn the ones who sin – rather, we simply need to pray for them. Enjoy the Lord as the sin-dealing life and learn to minister Him to others by first praying for them and learning to minister Christ to them to soften their heart. We don't trust in our own capacity or ability – we trust in the Lord that He may give us the grace to soften the heart hardened by sin. Christ is the proper medication for a sinful person – enjoy Christ and minister Christ as the sin-dealing life!
recovering the sinful saints takes time
This is not an overnight thing, and it cannot be quick! We need to be patient – we ourselves are in this process of being cured and recovered by enjoying Christ! This is why we need to be open to the Lord and pick up one saint that He puts on our heart to minister Christ to him. Maybe there is another saint who is burdened for this one – we can pray together and work together to minister Christ to one another. I love this quote from brother Lee about this,
If you two can work together for half a year to get this sinful brother recovered, this is a great, great help to the church life. This kind of ministry is the element for us to maintain the oneness of the Spirit in the church life.
[sharing inspired from the book, A Timely Word(by brother Witness Lee) as quoted in the Morning Revival on the Crystallization-Study of Psalms (1); you can get the morning revival book online or become a fan on Facebook for more updates. Picture credit: Amazing grace. Intro: Sinners Saved Through Grace]
Lord, how much we love You! We are sinners – yet we can come to You with a repenting heart! We love You much, Lord, for forgiving us much! Our merit is not in ourselves, and there's nothing good in us…. We love You as the sin-dealing life – You are our life now! Lord, have a way to save us from sin and also to save other saints from sin. Make us those who enjoy You and minister You as the sin-dealing life to the saints!